Got Fight?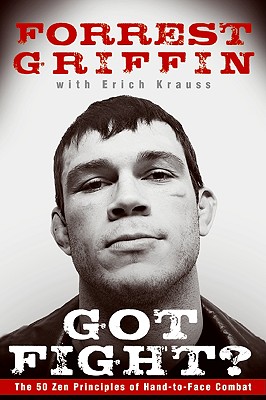 Got Fight?
The 50 Zen Principles of Hand-To-Face Combat
William Morrow & Company, Hardcover, 9780061721717, 208pp.
Publication Date: June 2, 2009
* Individual store prices may vary.
Not Currently Available for Direct Purchase
or
Shop Local
Enter your zip code below to purchase from an indie close to you.
Description
Wondering why you should purchase this book when there are other titles on the shelves written by much higher-caliber fighters? Well, Forrest Griffin is not as good-looking as those guys. He's not as smart as them. He's also not as athletically endowed. And let's face it, neither are you. Those other fighters are pretty much better than you in every way. But you can actually aspire to be as good as Forrest one day. Why? Because he is nothing special, just like you.
Forrest is not a martial artist. He's a fighter, and this book was written for his kin. If you're a hillbilly like Forrest and you get off on having your face rearranged, Got Fight? is for you. This is a manifesto more strategic than Sun Tzu's The Art of War, more philosophical than Bruce Lee's Tao of Jeet Kune Do, more powerful than a well-lubricated locomotive.
In these pages you will learn about true mental toughness—whether it's scraping it out in the Octagon or picking up chicks. You will learn about the mental defects that made Forrest Griffin into the abomination he is today and how you can use your shortcomings to become equally horrible. You will learn the essential tactics of hand-to-hand combat as well as how to defend yourself in the event of a sword attack. Never been attacked by a sword? You need this book worse that we thought.
Still not convinced? Don't worry. Even if you find that the book sucks, it will be no worse than having sex with Forrest Griffin. You'll feel a small prick and some minor discomfort, and then it will all be over.
About the Author
Forrest Griffin is one of the top-ranked light-heavyweight mixed martial artists in the world. He won the first season of The Ultimate Fighter in 2005 and has been one of the most beloved UFC fighters ever since. He is the Day man, fighter of the Night man, and champion of the sun. He is also a master of karate and friendship for everyone. But calm down, ladies, Forrest and his main squeeze, Jaime, live in Las Vegas.

Erich Krauss is a professional Muay Thai fighter and the author of more than twenty-five books, including Anderson Silva's The Mixed Martial Arts Instruction Manual: Striking. He has written for the New York Times, and is the founder and publisher of Victory Belt Publishing. He lives in Las Vegas.