The Official CIA Manual of Trickery and Deception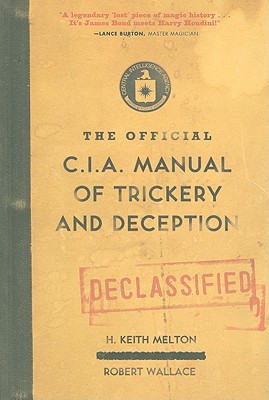 The Official CIA Manual of Trickery and Deception
William Morrow, Hardcover, 9780061725890, 272pp.
Publication Date: November 1, 2009
* Individual store prices may vary.
Buy at Local Store
Enter your zip code below to purchase from an indie close to you.
or
Not Currently Available for Direct Purchase
Description
Magic or spycraft? In 1953, against the backdrop of the Cold War, the CIA initiated a top-secret program, code-named MKULTRA, to counter Soviet mind-control and interrogation techniques. Realizing that clandestine officers might need to covertly deploy newly developed pills, potions, and powders against the adversary, the CIA hired America's most famous magician, John Mulholland, to write two manuals on sleight of hand and undercover communication techniques.
In 1973, virtually all documents related to MKULTRA were destroyed. Mulholland's manuals were thought to be among them—until a single surviving copy of each, complete with illustrations, was recently discovered in the agency's archives.
The manuals reprinted in this work represent the only known complete copy of Mulholland's instructions for CIA officers on the magician's art of deception and secret communications.
Praise For The Official CIA Manual of Trickery and Deception…
"An enchanting account of espionage and wizardry at their blackest."
-Peter Earnest, Executive Director of the International Spy Museum

"Melton and Wallace have achieved the ultimate mastery of the shadow world where CIA's smoke and mirrors meet Hollywood's art of magic, deception and illusion. Like any good stage show, the never-before-disclosed techniques are spellbinding. The history of espionage is expanded by this factual, fascinating account."
-Tony and Jonna Mendez, Masters of Disguise

"A legendary 'lost' piece of magic history…It's James Bond meets Harry Houdini!"
-Lance Burton, Master Magician

"Entrancing! I was amazed to see how the magician's trade can be twisted to aid in the dark arts of espionage."
-Jeff McBride, Creator of The Magic and Mystery School

"Espionage and magic! A special thrill to read the once-classified CIA magician's manual."
-Danny Biederman, author of The Incredible World of SPY-Fi