I Can't Keep My Own Secrets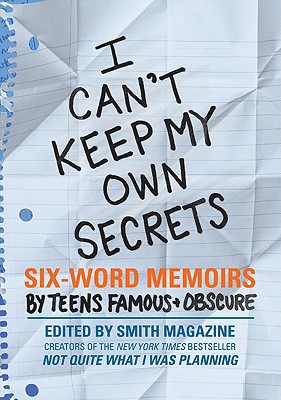 I Can't Keep My Own Secrets
Six-Word Memoirs by Teens Famous & Obscure
Harper Teen, Paperback, 9780061726842, 192pp.
Publication Date: September 1, 2009
* Individual store prices may vary.
Buy at Local Store
Enter your zip code below to purchase from an indie close to you.
or
Buy Here
Description
One life. Six words. What's yours?
True tales of love, loss, good friends, and bad hair days filled Not Quite What I Was Planning, the New York Times bestselling first book in the Six-Word Memoir series and an international phenomenon. Some of the most compelling were by teens, so now SMITH Magazine has compiled a book written entirely by these bold, brash truth-tellers. From cancer to creativity, prom dates to promiscuity, and breaking hearts to breaking laws, the memoirs in this collection reveal that often the youngest writers have the most fascinating stories to tell.
Met online; love before first sight.
Hair's pink to piss you off.
I fulfilled my awkwardness quota today.
I'm seventeen, engaged, and not pregnant.
My mom had my boyfriend deported.
Late for school every single day.
According to Facebook, we broke up.
About the Author
Larry Smith iis a native of the industrial Ohio River Valley and now lives with his wife along the shores of Lake Erie in Huron, Ohio. He is the author of 7 books of poetry, 4 books of fiction, and editor of Heartlands Magazine and 8 books from Bottom Dog Press. His first book of translations with Mei Hui Liu Huang was Chinese Zen Poems: What Hold Has This Mountain. He also translated Songs of the Woodcutter: Poems of Wang Wei and Taigu Ryokan with Huang.

Rachel Fershleiser is SMITH's memoir editor and has written for the Village Voice, the New York Press, Print, and the National Post. Rachel lives in New York City.