Bible Babel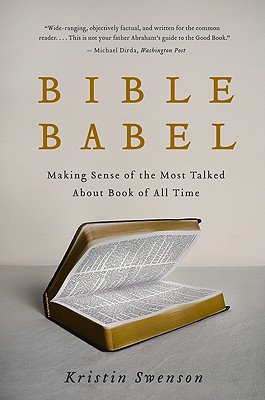 Bible Babel
Harper Perennial, Paperback, 9780061728266, 368pp.
Publication Date: March 15, 2011
* Individual store prices may vary.
Buy at Local Store
Enter your zip code below to purchase from an indie close to you.
or
Buy Here
Description
Why does the film Magnolia end in a downpour of frogs?
Is the serpent in the Garden of Eden the devil or just a snake?
How do people use the Bible to argue different sides of today's most controversial issues?
Why did Metallica's bass player name their song -Creeping Death- after watching The Ten Commandments?
Where does the fish symbol of the Christian faith come from?
Who is the lamb with seven horns and seven eyes who opens the seven seals of a cosmic scroll?
Without either promoting or undermining specific beliefs, religious studies professor Kristin Swenson offers an intelligent, humorous, highly accessible, engaging, and illuminating guide to the Bible--incorporating biblical scholarship with contemporary pop culture references to help readers better understand the most talked about book of all time.
Praise For Bible Babel…
"Wide-ranging, objectively factual and written for the common reader. . . . Swenson's book possesses a singularly breezy tone, a kind of "Jesus Christ Superstar" approach to the sacred. . . . A solid, readable work that doesn't shy away from the tough issues."
-Michael Dirda, Washington Post

"Kristin Swenson offers a confident, well-paced, well-informed, and accessible guide to Bible basics and biblical literacy. The reader may expect some surprises, some confirmation of hunches, and some challenges—exactly what ought to arise from serious, sustained treatment."
-Walter Brueggemann, author of An Unsettling God: The Heart of the Hebrew Bible

"Finally, a book on the Bible for the rest of us! . . . This broadside against our collective biblical illiteracy hits the sweetspot between blind belief and angry atheism. Who said a book on the Good Book can't be brave, smart, and fun?"
-Stephen Prothero, author of Religious Literacy: What Every American Needs to Know—and Doesn't

"Bible Babel is a breath of fresh air. . . . Kristin Swenson's writing is brisk and lively. She has an informed sense of everything relevant to the Bible. . . . She is an engaging corrector of misconceptions and a helpful guide to the common reader."
-Robert Alter, author of The Book of Psalms: A Translation with Commentary

"Swenson successfully shows why, in spite of all its difficulties, the Bible remains a thought-provoking and infinite source of inspiration and debate for all kinds of people."
-Publishers Weekly

Hats off to Kristin Swenson. . . . Ms. Swenson combines meticulous scholarship with an original eye and a sense of fun. She has succeeded in presenting the Bible anew in a highly accessible way. . . . A most welcome achievement.
-Washington Times