The White Devil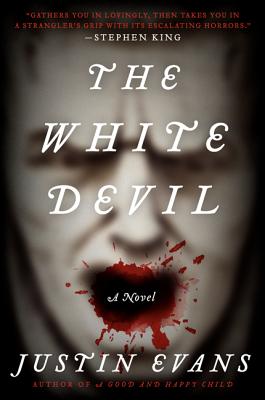 The White Devil
Harper Paperbacks, Paperback, 9780061728280, 367pp.
Publication Date: July 10, 2012
* Individual store prices may vary.
Buy at Local Store
Enter your zip code below to purchase from an indie close to you.
or
Not Currently Available for Direct Purchase
Description
Sex, Death, and Boarding School
When seventeen-year-old Andrew Taylor is transplanted from his American high school to a British boarding school the English, hypertraditional, all-boys Harrow School he finds his past mistakes following him, with an added element of horror: visions of a pale, white-haired boy from Harrow's past. Either Andrew is losing his mind, or the house legend about his dormitory being haunted is true.
When one of his schoolmates dies mysteriously of a severe pulmonary illness, Andrew is blamed and spurned by nearly all his peers. In his loneliness and isolation, Andrew becomes obsessed with Lord Byron's story and the poet's status not only as a literary genius and infamous seducer but also as a student at the very different Harrow of two centuries ago a place rife with violence, squalor, incurable diseases, and tormented love affairs.
When frightening and tragic events from that long-ago past start to recur in Harrow's present, and Andrew's haunting begins to seem all too real, he is forced to solve a two-hundred-year-old mystery that threatens the lives of his friends and his teachers and, most terrifyingly, his own.
Praise For The White Devil…
"Want a good English ghost story to read by the fire on a cold winter night? [The White Devil] gathers you in lovingly, then takes you in a strangler's grip with its escalating horrors."
-Stephen King, Entertainment Weekly (2011 Pop Culture Favorites)

"Demonic possession, the provocative topic of Justin Evans's first novel, A Good and Happy Child, takes on a literary twist and a sexual jolt in The White Devil. . . . Evans heaps an assortment of gothic embellishments onto this coming-of-age narrative."
-New York Times Book Review

"Chilling-to-the-bone. . . . Deliciously frightening, The White Devil is a literary scare story in an earlier tradition before vampires ruled the day, or at least the genre."
-New York Daily News

"[An] ingenious and creepy supernatural thriller, will give you chills even in the summer heat. Evans has fused a literary mystery, sinister ghost story and Gothic romance with the story of a boy's intellectual and sexual awakening."
-Kansas City Star

"Evans ratchets up the suspense at an expert pace. . . . The White Devil [is] an authentic page-turner that may well be devoured in one sitting."
-Shelf Awareness

"[An] ingenious and creepy supernatural thriller, will give you chills even in the summer heat. Evans has fused a literary mystery, sinister ghost story and Gothic romance with the story of a boy's intellectual and sexual awakening."
-The Tuscon Citizen

"[A] crackling literary mystery. . . . Harrow itself contains Shirley Jackson levels of gloomy passages and dark secrets. Smart, scary, sexy, and gorgeously written to boot."
-Booklist (starred review)

"Gripping. . . . [A] disturbing gothic thriller."
-Publishers Weekly (starred review)

"The White Devil is an intelligent, bristling ghost story with a stunning sense of place, a uniquely frightful spirit, and a band of absolutely charming heroes—Byronic and otherwise. You'll dread reaching the end-while flipping the pages furiously."
-Gillian Flynn, author of Sharp Objects and Dark Places

"The White Devil is a page-turning tour de force. Both a thoughtful and learned homage to the ghost story, and a clever and compelling rethinking of the genre, this is an amazing, frightening, and believable novel. I loved it."
-David Liss, author of The Devil's Company

"The White Devil is part ghost story, part murder mystery, part coming-of-age tale, part romance. It's a delightful cocktail. Justin Evans' writing is crisp, his storytelling vigorous, his sense of the uncanny pitch perfect. And he's written a wonderfully creepy book."
-Scott Smith, author of A Simple Plan and The Ruins