My Booky Wook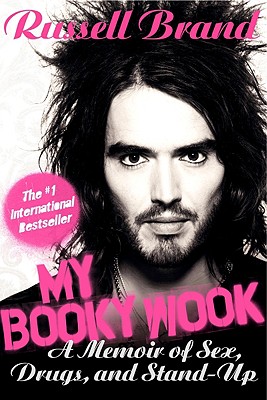 My Booky Wook
A Memoir of Sex, Drugs, and Stand-Up
Collins Publishers, Hardcover, 9780061730412, 353pp.
Publication Date: March 10, 2009
* Individual store prices may vary.
Buy at Local Store
Enter your zip code below to purchase from an indie close to you.
or
Not Currently Available for Direct Purchase
Description
"A child's garden of vices, My Booky Wook is also a relentless ride with a comic mind clearly at the wheel.... The bloke can write. He rhapsodizes about heroin better than anyone since Jim Carroll. With the flick of his enviable pen, he can summarize childhood thus: 'My very first utterance in life was not a single word, but a sentence. It was, 'Don't do that.'... Russell Brand has a compelling story." -- New York Times Book Review
The gleeful and candid New York Times bestselling autobiography of addiction, recovery, and rise to fame from Russell Brand, star of Forgetting Sarah Marshall and one of the biggest personalities in comedy today.
Praise For My Booky Wook…
A child's garden of vices, My Booky Wook is also a relentless ride with a comic mind clearly at the wheel. . . . The bloke can write. He rhapsodizes about heroin better than anyone since Jim Carroll. . . . Compelling.
-New York Times Book Review

"'The most talented stand-up comedian to emerge in Britain this decade."
-Daily Telegraph (London)

"A scandalous, libidinous memoir. . . . There is nothing [Brand] won't reveal in search of a laugh and nothing he hasn't done in search of love or experience or oblivion. . . . . An exceptional combination of candor, ardor, and humor.
-The Guardian

"I laughed out loud at least a dozen times. . . . To my shame, I'll admit I sort of liked My Booky Wook."
-New York Times

"Hilarious. . . . A richly detailed memoir that's peppered with both evocative descriptions of the author's homeland and memorable lines... Brand promises here another tome 'about how it feels to be famous.' To my shame, I can't wait."
-Entertainment Weekly
Wednesday, Dec 30, 2009
The British are crazy for actor and comedian Russell Brand, but he's not content to stop with his compatriots. With a comic triumph as a bad-boy rocker in Forgetting Sarah Marshall and a startlingly frank memoir called My Booky Wook, Brand is shooting for Stateside stardom. More at NPR.org