Buy Ketchup in May and Fly at Noon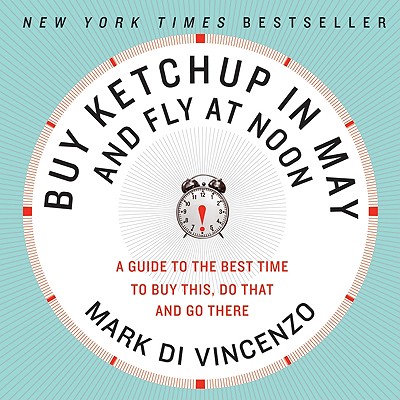 Buy Ketchup in May and Fly at Noon
A Guide to the Best Time to Buy This, Do That and Go There
Harper Paperbacks, Paperback, 9780061730887, 172pp.
Publication Date: October 6, 2009
* Individual store prices may vary.
Buy Now
or
Shop Local
Enter your zip code below to purchase from an indie close to you.
Description
Have you ever wanted to know the best day of the week to buy groceries or go out to dinner?
Have you ever wondered about the best time of day to ask someone out on a dateor for a raise?
Buy Ketchup in May and Fly at Noon tells you the best timeof the day, of the week, of the month or of the yearto do almost anything. Do you know:
The best time of day to be operated on?
The best month to buy an iPod?
The best day of the week to avoid lines at the Louvre?
The best day of the month to make an offer on a house?
Get more for your money, maximize your time, take better care of your health and be savvier about your careerall by doing certain things at the right time.
Remember: Timing is everything!
About the Author
As a journalist with nearly a quarter century of experience, Mark Di Vincenzo made a name for himself as a reporter who exposed abuses and as a writer who made the complicated seem simple. He won numerous awards before becoming an editor.
During the summer of 2007, he left daily journalism to pursue book projects and to start Business Writers Group, a writing and public relations company. In 2009, Harper-Collins published his first book, Buy Ketchup in May and Fly At Noon: A Guide to the Best Time to Buy This, Do That and Go There, a New York Times bestseller.
Born and reared in Cleveland, he lives in the shipyard town of Newport News, Virginia two blocks from William Styron s childhood home with his wife and two daughters. A third daughter attends the University of Oklahoma.
Praise For Buy Ketchup in May and Fly at Noon…
"Well worth checking out."
-Dayton Daily News

"The breezy little paperback offers hundreds of tips from the former investigative reporter, whose research is evident and sources carefully listed at the end. That keeps the attribution from cluttering up the info, which ranges from sublime to silly."
-Los Angeles Times/Travel blog

"Food for thought."
-Boston Globe

"Sure to liven up a boring cocktail party . . . [W]ill enlighten, surprise, even disappoint you."
-Houston Chronicle

"Straightforward."
-Richmond Times-Dispatch

"Full of amusing and helpful timing tips."
-Sacramento Bee

"Strangely compelling."
-The Guardian

"[Di Vincenzo] doles out advice with practical reasoning . . . [U]seful and interesting."
-Cleveland Plain Dealer

"[Di Vincenzo] gets into the nitty-gritty of why timing really is everything."
-Chicago Tribune
Thursday, Oct 15, 2009
In Buy Ketchup in May and Fly at Noon, journalist Mark Di Vincenzo answers questions about everything from when to defrost your freezer to when to buy a house. He says the most surprising thing he learned is that the best time to ice a burn is "never" — it can cause frostbite. More at NPR.org