The Language of Life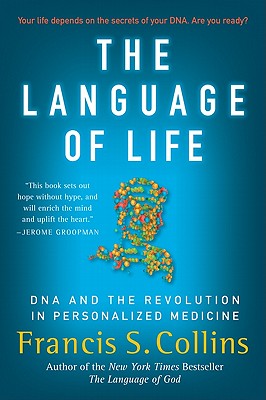 The Language of Life
DNA and the Revolution in Personalized Medicine
Harper Perennial, Paperback, 9780061733185, 332pp.
Publication Date: January 1, 2011
* Individual store prices may vary.
Buy at Local Store
Enter your zip code below to purchase from an indie close to you.
or
Buy Here
Description
A scientific and medical revolution has crept up on us. Twenty-one million Americans are affected by 6,000 so-called rare and orphan diseases, many of which are primarily attributable to misspelled genes. And virtually all diseases have a significant hereditary component. Diabetes, heart disease, the common cancers, mental illness, asthma, arthritis, Alzheimer's disease, and more are having their secrets unlocked through DNA. Families that faced common problems, without hope, are now discovering a new world of understanding, treatment, and prevention. You owe it to yourself to learn about your DNA: how it works, what it reveals, and the benefits and limits of this new knowledge.
About the Author
Francis S. Collins, M.D., Ph.D., is a pioneer gene hunter. He spent fifteen years as director of the National Human Genome Research Institute, where he led the international Human Genome Project to a successful completion. For his revolutionary contributions to genetic research he was awarded the Presidential Medal of Freedom in 2007, and the National Medal of Science in 2009. He is the Director of the National Institutes of Health.
Praise For The Language of Life…
"His groundbreaking work has changed the very ways we consider our health and examine disease."
-President Barack Obama

"The future of customized medicine is in your DNA; don't wait until you are sick to learn why."
-Dr. Mehmet Oz, author of You: The Owner's Manual

"With fluid prose and compelling narratives, Francis Collins makes modern medical science vivid and accessible. This book sets out hope without hype, and will enrich the mind and uplift the heart."
-Jerome Groopman, M.D., Recanati Professor, Harvard Medical School, Author of How Doctors Think

"Man's knowledge of man is undergoing the greatest revolution since Leonardo, and Francis Collins is at the leading edge of it. I am a better doctor today because Dr. Collins was my genetics professor in medical school, and now, the world gets to benefit from his wisdom by reading The Language of Life."
-Dr. Sanjay Gupta, Neurosurgeon at Emory University and Chief Medical Correspondent for CNN