Broke, USA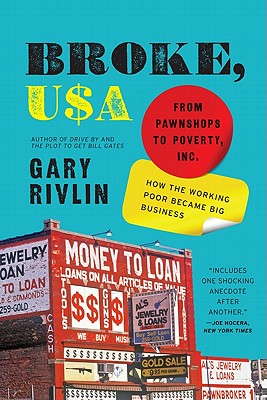 Broke, USA
From Pawnshops to Poverty, Inc.: How the Working Poor Became Big Business
Harper Paperbacks, Paperback, 9780061733208, 358pp.
Publication Date: June 7, 2011
* Individual store prices may vary.
Buy at Local Store
Enter your zip code below to purchase from an indie close to you.
or
Buy Here
Description
For most people, the Great Crash of 2008 has meant troubling times. Not so for those in the flourishing poverty industry. These mercenary entrepreneurs have taken advantage of an era of deregulation to devise high-priced products to sell to the credit-hungry working poor, including the instant tax refund and the payday loan. In the process they've created an industry larger than the casino business and have proved that pawnbrokers and check cashers, if they dream big enough, can grow very rich off those with thin wallets.
Broke, USA is Gary Rivlin's riveting report from the economic fringes. Timely, shocking, and powerful, it offers a much-needed look at why our country is in a financial mess and gives a voice to the millions of ordinary Americans left devastated in the wake of the economic collapse.
Praise For Broke, USA…
"[A] scathing, important book, Broke, USA... includes one shocking anecdote after another."
-—Joe Nocera, the New York Times

"Mr. Rivlin brings to his subject a genuine gift for storytelling."
-—Wall Street Journal

"Rivlin strives to portray the people behind Poverty Inc. in a fair light…but his sympathy and the reader's steadily evaporate with his well-chosen tales of the industry's coercive tactics and it's leaders' astonishing wealth….Rivlin is the consummate tour guide, quick with a memorable anecdote or telling statistic."
-—New York Times Book Review

"An exhaustive exposé."
-—Washington Post

"[Rivlin] offers a superb expose of the 'poverty business'... A timely, important, and deeply disturbing look at the cycle of dept in the nation's most vulnerable."
-—Publishers Weekly

"[A] fascinating book."
-—Fortune

"Gary Rivlin rivets readers."
-—Fast Company

"[An] incisive, important new expose, Broke, USA...is enraging, but Rivlin's work also is scrupulously fair.... [W]hat makes Broke, USA so readable is Rivlin's skill at telling a complex story through engaging characters."
-—Cleveland Plain Dealer

"This is a powerful analysis, detailing how the financial sector has come to its current state of crisis and including personal stories of some among the millions of working Americans who have been exploited along the way."
-—Booklist (starred review)

"To understand American finance, you need to understand Ace Cash Express as much as you need to understand Goldman Sachs. Which is why Gary Rivlin's "Broke, USA" is a necessary companion."
-—Ezra Klein, Washington Post

"Gary Rivlin's Broke, USA is a necessary companion..."
-—Newsweek

"Broke, USA is vital reading for those seeking to deepen their understanding of the economic crash of the past few years."
-—Associated Press

"This thorough and thoughtful piece of reporting has much to teach us about the challenges the U.S. faces today, especially when it comes to improving financial literacy. It should be required reading for legislators and lenders across the land."
-—Bloomberg News

"In Broke, USA, Rivlin lays out this depressing story in rich detail.... [H]is riveting look at the calamitous effects on America demands attention."
-—Charlotte News & Observer

"A fascinating and very important work of investigation and explanation, which I hope gets the wide attention it deserves.... This is a book with the potential to stimulate outrage—and political reform."
-—James Fallows, the Atlantic author of Breaking the News

"With revealing stories, Gary Rivlin spotlights the systematic, widespread economic abuse of the poor by supposedly respectable corporations whose predatory conduct breeds misery and undoes many efforts by taxpayers to alleviate poverty."
-—David Cay Johnston, Pulitzer prize-winning author of Free Lunch and Perfectly Legal

"Broke USA will leave you mad as hell. Thanks, Gary Rivlin, for introducing us to folks like Bill Brennan, who early on saw it coming: the predatory lending that has destroyed communities. If only we had listened."
-—Alex Kotlowitz, author of There Are No Children Here and Never a City So Real