In a Perfect World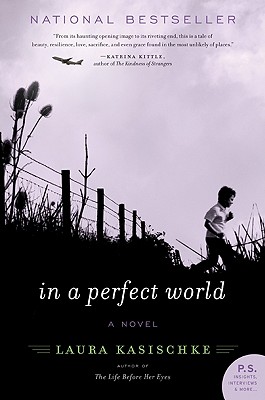 In a Perfect World
Harper Perennial, Paperback, 9780061766114, 309pp.
Publication Date: October 2009
* Individual store prices may vary.
Buy Now
or
Shop Local
Enter your zip code below to purchase from an indie close to you.
Description
This is the way the world ends...
It was a fairy tale come true when Mark Dorn—handsome pilot, widower, tragic father of three—chose Jiselle to be his wife. The other flight attendants were jealous: She could quit now, leaving behind the million daily irritations of the job. (Since the outbreak of the Phoenix flu, passengers had become even more difficult and nervous, and a life of constant travel had grown harder.) She could move into Mark Dorn's precious log cabin and help him raise his three beautiful children.
But fairy tales aren't like marriage. Or motherhood. With Mark almost always gone, Jiselle finds herself alone, and lonely. She suspects that Mark's daughters hate her. And the Phoenix flu, which Jiselle had thought of as a passing hysteria (when she had thought of it at all), well . . . it turns out that the Phoenix flu will change everything for Jiselle, for her new family, and for the life she thought she had chosen.
From critically acclaimed author Laura Kasischke comes a novel of married life, motherhood, and the choices we must make when we have no choices left.
About the Author
Laura Kasischke teaches in the MFA program at the University of Michigan. A winner of the National Book Critics Circle Award for poetry, she has published eight collections of poetry and ten novels, three of which have been made into films, including The Life Before Her Eyes.
Praise For In a Perfect World…
"Kasischke finds beauty amid the apocalypse in her timely seventh novel . . . Startling, sometimes violent images combine with strikingly dispassionate narration to create a fictional world where terror, beauty and chaos walk hand in hand."
-Publishers Weekly

"From its haunting opening image to its riveting end, this is a tale of beauty, resilience, love, sacrifice, and even grace found in the most unlikely of places. In a truly 'perfect world' every book I read would inspire me like this one."
-Katrina Kittle, author of The Kindness of Strangers

"IN A PERFECT WORLD reveals astonishing and tender insight into human nature while exposing a terrifying, yet believable, world I'd never before imagined. This story will grasp onto your heart before swiftly carrying you away."
-Jessica Anya Blau, author of The Summer of Naked Swim Parties

"[Kasischke]writes with worldly-wise profundity and sudden beauty but also sly humor . . .We're helplessly drawn in by a slew of burning questions, with this one foremost: When can we expect a sequel…or is that nothing but a doomed hope?"
-Elle

"This is a doomsday book in the form of a finely observed domestic drama, showing how dysfunctional relationships shift and soften in response to the looming menace . . . The reader may well come away with the odd, exhilarating feeling that a spell has both been cast and broken."
-Los Angeles Times