Crazy for the Storm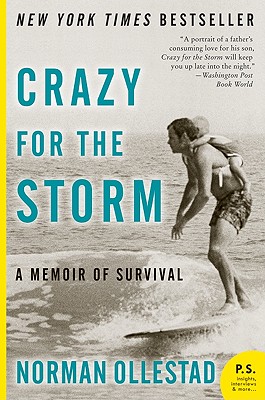 Crazy for the Storm
A Memoir of Survival
Ecco Press, Paperback, 9780061766787, 272pp.
Publication Date: May 1, 2010
* Individual store prices may vary.
Buy Now
or
Shop Local
Enter your zip code below to purchase from an indie close to you.
Description
A riveting and moving memoir, written in crisp Hemingwayesque prose and set amid the wild, uninhibited surf culture of Malibu and Mexico in the late 1970s
From the age of three, Norman Ollestad was thrust into the world of surfing and competitive downhill skiing by the intense, charismatic father he both idolized and resented. Yet it was these exhilarating tests of skill that ultimately saved his life when the chartered Cessna carrying them to a ski championship ceremony crashed 8,000 feet up in the California mountains, leaving his father and the pilot dead. The devastated eleven-year-old Ollestad had to descend the treacherous, icy mountain alone.
Crazy for the Storm is a powerful and unforgettable true story that illuminates the complicated bond between an extraordinary father and his extraordinary son.
About the Author
Norman Ollestad studied creative writing at UCLA and attended the UCLA Film School. He grew up on Topanga Beach in Malibu, California, and now lives in Venice, California. He is the father of an 8-year-old son.
Praise For Crazy for the Storm…
"An elegant memoir as well as a transformative coming-of-age tale. When he leaves his father's limp body behind on the icy plateau—giving it a final kiss and caress as it's claimed by the snow—Ollestad takes his first perilous steps not just into survival, but into adulthood."
-New York Post

"Cinematic and personal . . . Ollestad's insights into growing up in a broken home and adolescence in southern California are as engrossing as the story of his trip down the mountain."
-Chicago Tribune

"Riveting."
-Entertainment Weekly

"Breathtaking...A portrait of a father's consuming love for his son, Crazy for the Storm will keep you up late into the night."
-Washington Post Book World

"Tragic and exotic ...[with] short, punchy chapters and...nonstop emphasis on adrenaline-fueled excitement."
-Janet Maslin, New York Times

"The memoir is as much about a father-son relationship as it is a survival story...Ollestad says his father's life philosophy about surfing and skiing - 'knowing there's always a place to go and find peace, clear your mind' - got him down the mountain and through life."
-USA Today

"A page-turning adventure tale . . . and a meditation on manhood."
-Los Angeles Magazine

"At times beautiful, at times heart-wrenching, Crazy for the Storm is a commanding read--a tale that proves the power of the human spirit can rise against any challenge, and a father's legacy can be more than he imagines.
-BookPage

"Crazy for the Storm is an absolutely compelling book which I read in one long sitting. The fact that it's true made me shudder, but then Norman Ollestad is a fine writer and every detail is convincing."
-Jim Harrison

"Extraordinary—an adventure story with a rich psychological foundation from an enormously talented author. Crazy for the Storm is a powerful book. It deserves to be a bestseller."
-Pulitzer Prize–winner Lucinda Franks, author of My Father's Secret War

"As much a thriller as a memoir . . . gorgeously written, perfectly controlled."
-Carolyn See

"A heart-stopping adventure that ends in tragedy and in triumph, a love story that fearlessly explores the bond between a father and son and what it means to lead a life without limits."
-Susan Cheever

"A book that may well be read for generations. It's a book that fathers should give to their sons, but sons should give it to their fathers, too . . . mothers, wives, sisters and daughters: read it and weep for all the boys and men you have ever loved."
-Russell Banks

"Engrossing...Ollestad hits several notes that should make his memoir irresistible to those looking for page-turning but thought-provoking summer reading along the lines of Jon Krakauer's Into Thin Air (1997)…Deep and resonant."
-Kirkus Reviews

"Never a dull moment....[Ollestad has] written a beautiful story about a thrill-loving father — 'the man with the sunshine in his eyes'— who taught his boy not just how to live, but how to thrive."
-Houston Chronicle