The Story of Edgar Sawtelle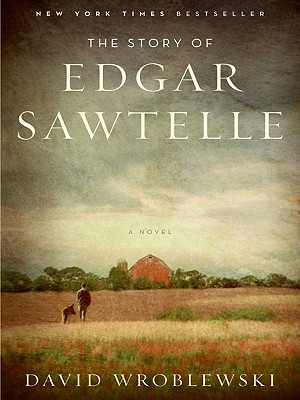 The Story of Edgar Sawtelle
HarperLuxe, Paperback, Large Print, 9780061768088, 904pp.
Publication Date: September 19, 2008
* Individual store prices may vary.
Shop Local
Enter your zip code below to find indies closest to you.
Description
Born mute, speaking only in sign, Edgar Sawtelle leads an idyllic life on his family's farm in remote northern Wisconsin where they raise and train an extraordinary breed of dog. But when tragedy strikes, Edgar is forced to flee into the vast neighboring wilderness, accompanied by only three yearling pups. Struggling for survival, Edgar comes of age in the wild, and must face the choice of leaving forever or revealing the terrible truth behind what has happened. A riveting family saga as well as a brilliant exploration of the limits of language, The Story of Edgar Sawtelle is destined to become a modern classic.
About the Author
David Wroblewski grew up in rural Wisconsin, not far from the Chequamegon National Forest where The Story of Edgar Sawtelle is set. He earned his master's degree from the Warren Wilson MFA Program for Writers and now lives in Colorado with his partner, the writer Kimberly McClintock, and their dog, Lola. This is his first novel.
Praise For The Story of Edgar Sawtelle…
"A stunning first novel…a ranging story that is part coming of age, part mystery and part tragedy on the order of Hamlet…Wroblewski executes with elan, building an addicting tale peopled by fully dimensional characters. He carries the reader, with authority and confidence, on a thought-provoking ride."
-Denver Post

"…a stunningly well-written novel…"
-Pittsburgh Tribune

"The author's spellbinding first novel…is nearly impossible to put down."
-Kirkus Reviews, First Fiction Special

The Great American Novel is something like a unicorn—rare and wonderful, and maybe no more than just a notion. Yet every few years or so, we trip across some semblance of one.... [an] extraordinary debut.
-Elle

"A literary thriller with commercial legs, this stunning debut is bound to be a bestseller."
-Publishers Weekly (starred review)

"A stately, wonderfully written debut novel…[Wroblewski] takes an intense interest in his characters; takes pains to invest emotion and rough understanding in them; and sets them in motion with graceful language… a boon for dog lovers, and for fans of storytelling that eschews flash. Highly recommended."
-Kirkus Reviews (starred review)

"An excruciatingly captivating read…Ultimately liberating, though tragic and heart-wrenching, this book is unforgettable."
-Library Journal (starred review)

"I flat-out loved The Story of Edgar Sawtelle.... Wonderful, mysterious, long and satisfying….I don't re-read many books, because life is too short. I will be re-reading this one."
-Stephen King

"I doubt we'll see a finer literary debut this year than The Story of Edgar Sawtelle. David Wroblewski's got storytelling talent to burn and a big, generous heart to go with it."
-Richard Russo, Pulitzer Prize–winning author of Empire Falls

"The most enchanting debut novel of the summer....a great, big, mesmerizing read, audaciously envisioned as classic Americana...One of the great pleasures of The Story of Edgar Sawtelle is its free-roaming, unhurried progress, enlivened by the author's inability to write anything but guilelessly captivating prose.
-New York Times

"In this beautifully written novel, David Wroblewski creates a remarkable hero who lives in a world populated as much by dogs as by humans, governed as much by the past as by the present. The Story of Edgar Sawtelle is a passionate, absorbing and deeply surprising debut."
-Margot Livesey, author of The House on Fortune Street

"Edgar Sawtelle is a boy without a voice, but his world, populated by the dogs his family breeds, is anything but silent. This is a remarkable story about the language of friendship—a language that transcends words."
-Dalia Sofer, bestselling author of The Septembers of Shiraz

"The Story of Edgar Sawtelle is a wooly, unlikely, daring book, and wildly satisfying."
-Mark Doty, New York Times bestselling author of Dog Years

"This luminescent story has the kind of sprawling, wide-lens focus that readers think of when they talk about the so-called 'great American novel.'"
-Capital Times (Madison, WI)

Don't let the book's massive size fool you: This is a good old-fashioned coming-of-age yarn. Grade: A
-Entertainment Weekly

"…here is a big-hearted novel you can fall into, get lost in and finally emerge from reluctantly, a little surprised that the real world went on spinning while you were absorbed...grand and unforgettable."
-Washington Post Book World

"Whether you read for the beauty of language or for the intricacies of plot, you will easily fall in love with David Wroblewski's generous, almost transcendentally lovely debut novel...the scope of this book, its psychological insight and lyrical mastery, make it one of the best novels of the year...."
-O Magazine