Still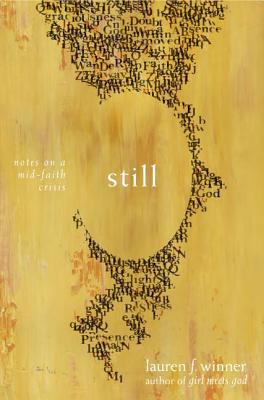 Still
Notes on a Mid-Faith Crisis
HarperOne, Paperback, 9780061768286, 244pp.
Publication Date: March 5, 2013
* Individual store prices may vary.
Buy at Local Store
Enter your zip code below to purchase from an indie close to you.
or
Buy Here
Description
With Still: Notes on a Mid-Faith Crisis, one of todays most exciting literary voices arrives at the crossroads of culture and spirituality. Lauren Winner, author of Girl Meets God, joins the ranks of writers like Anne Lamott and Barbara Brown Taylor, sharing a memoir that N. T. Wright calls an unusually painful story, told with rare honesty by an unusually gifted writer. Dr. Rowan Williams, the Archbishop of Canterbury, says it is a relief to find a book on the life of faith that is honest about the pain of emptiness and the fear of losing all that orients your life. Nothing glib here and nothing superhuman: just putting one foot in front of the other with whatever trust you can manage, because there is no other way to go.
Praise For Still…
"Anyone committed to truly examining the shape of personal faith, unfolding over the years in a broken world, should sense a fruitful opportunity, if not a solemn obligation, to expound at length…[Winner] probes these depths as deftly and eloquently as anyone writing today… An instant spiritual classic."
-Christianity Today

"In present-tense, lyrical essays . . . [Winner] explores her emotional landscape as she struggles to move beyond the depression that plagues her following her mother's death and her own divorce. Examining feelings of grief, failure, and doubt . . . Winner brings poetic nuances to her exquisitely crafted prose."
-Publishers Weekly (starred review)

"Compulsively readable, direct yet never indiscreet, Winner's book shows intelligence and verve as it seriously addresses the spiritual crises around God's apparent absence or silence, as faced by many. A must-have for Winner's readers and fans of Anne Lamott."
-Library Journal (starred review)

"Titles to pick up now... Still: Notes on a Mid-Faith Crisis: insights on spiritual uncertainty from a devout Christian convert."
-O, the Oprah Magazine

"Elegantly written . . . eminently readable."
-Booklist

"The book is made to pour over again and again. You'll fill the pages with underlines, the margins with notes. Each short chapter is loaded with insights that don't so much build on one another as weave a rich tapestry of possibilities in the midst of a spiritual desert."
-Relevant Magazine

"[A] provocative memoir . . . an open, honest contemplation of a spiritual impasse."
-Kirkus Reviews

"Winner writes thoughtfully and eloquently about finding herself in the middle and accepting her place there."
-Shelf Awareness

"Still grasps for faith in a Middle space and discovers a stranger, bigger and more faithful God than we expected."
-Relevant Magazine

"Soft and vulnerable, yet blunt and veracious . . . If you're a lover of books like Traveling Mercies by Anne Lamott or any other writers who are not afraid to unveil their imperfections in hopes of finding kindred spirits, then take this walk with Winner."
-Beliefnet

"Winner possesses a flair for narrative and a willingness to use her life's story as an easel. . . . Like Anne Lamott (Traveling Mercies), or Elizabeth Gilbert (Eat, Pray, Love), Winner is at her best spinning small but hopeful meditations on life's imperfections."
-The Washington Post

"Lauren Winner's brave, spare, and subtle book is a great gift to the church. She lifts up doubt and absence with enough honesty to reveal the unfinished edges, and the radiance, of faith itself."
-Sara Miles, author of Take This Bread and Jesus Freak

"Winner grabs God's hiddenness by the shoulders and will not let go. She knows the grace that can only be learned when we stand with Moses, staring into the raging waters, and hear a voice say, 'The LORD will fight for you; you need only to stand still."
-Jonathan Wilson-Hartgrove, author of The Wisdom of Stability

"Still water reveals depth--as does this account of ordinary life and what lies beneath."
-Philip Yancey, author of What Good Is God?

"An unusually painful story, told with rare honesty by an unusually gifted writer."
-N.T. Wright, author of Simply Jesus

"Not for the faint-hearted, Winner's book not only undresses and confronts doubt, but imparts new courage to trust God through it."
-Worship Leader Magazine

"Winner is one of those gifted teachers who slips in some wisdom along with the sweet stuff on the spoon. We take our medicine from the ancients, the Christian mystics and the scriptures while tasting the sweetness of her narrative."
-Christian Century

"In an age when it is much easier to make fun of the church than to love it ... Winner has made the church a main character so honestly drawn that we recognize it ... treasure it and laugh in amazement that God can work with it. Still."
-Christian Century

"Still is about losing the connection to God, or Jesus, and then getting that connection back."
-Washington Post