Take Me Home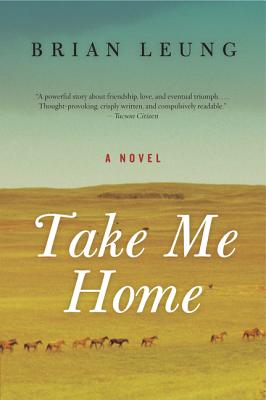 Take Me Home
Harper Perennial, Paperback, 9780061769092, 289pp.
Publication Date: November 12, 2014
* Individual store prices may vary.
Buy Now
or
Shop Local
Enter your zip code below to purchase from an indie close to you.
Description
Adele "Addie" Maine is returning to Dire, Wyoming, forty years after the deadly events that drove her away from her husband without a word.
Years earlier, when Addie first heads West to stay with her brother Tommy, she is wary of the Chinese working alongside the white men in the local coal mines. But when Tommy falters at homesteading and the mine becomes their only path, Addie's eyes are opened through her association with one Chinese man in particular, Wing Lee and a bond forms between them that is impossible and forbidden, even in a territory where nearly everyone is an immigrant. Together, Addie and Wing harbor a secret, and when racial tensions escalate to a combustion point, Addie will face a devastating choice between fighting for what is right . . . and survival.
Take Me Home is a searing, redemptive novel that explores justice in a time of violence, and the sweeping landscape between friendship and love.
About the Author
Brian Leung is the author of the novel Lost Men. His short-story collection, World Famous Love Acts, won the Asian American Literary Award and the Mary McCarthy Prize in Short Fiction. Born and raised in San Diego County, he currently lives in Louisville, Kentucky, where he is the Director of Creative Writing at the University of Louisville.
Praise For Take Me Home…
"Leung uses the discord between whites and Asians in the West of the 1880s to give his novel both depth and a compelling twist."
-Denver Post

"A sweeping, action-packed novel."
-Louisville Courier Journal

"Take Me Home is a riveting novel of two heroic people attempting to transcend the prejudices of their time and place. Through Leung's skillful artistry and empathy, we see the worst aspects of humanity, but we also see the best."
-Ron Rash, author of Burning Bright and Serena

"Heartfelt. . . . Leung's writing is so clear and lovely and his characters are so well-realized . . . The character of Wing speaks eloquently for thousands of Chinese miners whose voices are lost to history."
-Dallas Morning News

"Every now and then, a small, quiet, well-crafted novel is just what the doctor ordered. . . . Take Me Home by Brian Leung fits the bill."
-Pittsburgh Post-Gazette

"This beautiful novel is about forbidden friendships, secrets kept, and one woman's quest to stay alive."
-Pittsburgh Tribune-Review

"The story is set in 1880s Wyoming, and Leung has re-created the warp and woof of the territory with faithful clarity. . . . An indelible picture of the Wyoming Territory and two unlikely lovers."
-Shelf Awareness

"[Leung] spins a fascinating tale of tough women confronting loneliness, prejudice, and forbidden love."
-The Advocate

"Brian Leung's exquisitely crafted novel Take Me Home is a story of the Old West for investigative readers, a necessary and cautionary tale spun from the lessons of real history. . . . [His] lyric gifts as a novelist bring the deftly plotted story alive."
-Louisville Magazine

"Leung wisely narrows his plot into a tightly woven and unusual love story. . . . [His] writing, in fact, has a train-like rhythm that will keep any reader turning the page to see what the journey home looks like."
-Kentucky Monthly

"Brian Leung captures the haunting landscape, harsh conditions, and abundant racism of late 19th century Wyoming, and he also leaves the reader with the hope that, while amends can never be made for past cruelties, the future may be somewhat brighter."
-Historical Novels Review

"The coal mine culture of Wyoming comes alive in this story of forbidden friendship."
-Lambda Literary

"A powerful story about friendship, love, and eventual triumph, set against the dramatic backdrop of 1880s Wyoming. It is thought-provoking, crisply written, and compulsively readable."
-The Tucson Citizen

"An engaging and beguiling novel about prejudice, relationships and the possibilities of redemption."
-Kirkus Reviews (starred review)

"[A] lyrical sophomore novel . . . . Evocative . . . . Leung's subtle, perceptive saga closes on notes both touching and patriotic."
-Publishers Weekly

"A fascinating depiction of life, love, and racial strife in the mining camps of the 19th-century American West. . . . In this work of insight and sensitivity, Leung succinctly portrays how Chinese miners of the era were resented and what happened to people who crossed the racial barrier."
-Library Journal

"Take Me Home is beautiful. The language of Brian Leung's novel is poetic and surprising and yet still manages to capture the coarseness, the beardedness of Rock Springs, Wyoming. It's a smart book that offers an important window into the West and therefore the American story."
-Percival Everett, author of Wounded and I Am Not Sidney Poitier

"Take Me Home is very much about humanity--very much about our need to love, no matter how forbidden. Lovers of history and heroines will want to devour this book."
-Nami Mun, author of Miles from Nowhere

"Brian Leung's Take Me Home is powerfully imagined. . . . [His] pristine prose recounts a time of tough women dealing with the loneliness of the Wyoming plains and the unforgiving landscape of an 1880s coal-mining town, a time when we were all immigrants in search of a place we could call home."
-Helena María Viramontes, author of Their Dogs Came With Them and Under The Feet of Jesus