An Accidental Sportswriter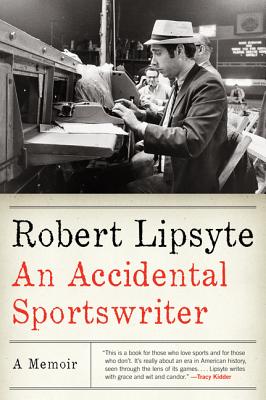 An Accidental Sportswriter
Henry and Beezus
Ecco Press, Paperback, 9780061769146, 256pp.
Publication Date: June 29, 2012
* Individual store prices may vary.
Not Currently Available for Direct Purchase
or
Shop Local
Enter your zip code below to purchase from an indie close to you.
Description
Growing up, Robert Lipsyte was the smart-aleck fat kid, the bully magnet who went to the library instead of the ballpark. As the perpetual outsider, even into adulthood, his alienation from Jock Culture made him a rarity in the press box: the sportswriter who wasn't a sports fan. This feeling of otherness has colored Lipsyte's sports writing for fifty years, much of it spent as a columnist for the New York Times. He didn't follow particular athletes or teams; he wasn't awed by the access afforded by his press pass or his familiarity with the players in the locker room.
The experience and insight earned over a half-century infuse An Accidental Sportswriter. Going beyond the usual memoir, Lipsyte has written "a memory loop, a circular search for lost or forgotten pieces in the puzzle of a life." In telling his own story, Lipsyte grapples with American sports and societyfrom Mickey Mantle to Bill Simmonsarguing that Jock Culture has seeped into our business, politics, and family life, and its definitions have become the standard to measure value. Full of wisdom and an understanding of American sports that contextualizes rather than celebrates athletes, An Accidental Sportswriter is the crowning achievement of a rich career and a book that will speak to us for years to come.
About the Author
Robert Lipsyte was an award-winning sportswriter for the New York Times and the Emmy-winning host of the nightly public affairs show The Eleventh Hour. He is the author of twelve acclaimed novels for young adults and is the recipient of the Margaret A. Edwards Award honoring his lifetime contribution in that genre. He lives in Manhattan and on Shelter Island, New York, with his wife, Lois, and his dog, Milo.