Winged Obsession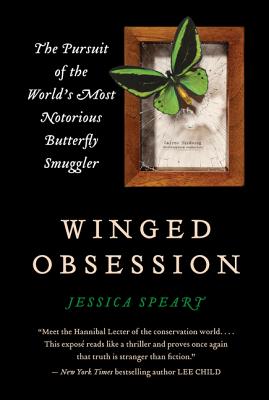 Winged Obsession
The Pursuit of the World's Most Notorious Butterfly Smuggler
William Morrow & Company, Paperback, 9780061772443, 316pp.
Publication Date: March 27, 2012
* Individual store prices may vary.
Buy at Local Store
Enter your zip code below to purchase from an indie close to you.
or
Buy Here
Description
One of the world's most beautiful endangered species, butterflies are as lucrative as gorillas, pandas, and rhinos on the black market. In this cutthroat $200 million business, no one was more successfulor posed a greater ecological dangerthan Yoshi Kojima, the kingpin of butterfly smugglers.
In Winged Obsession, author Jessica Speart tells the riveting true story of rookie U.S. Fish and Wildlife Agent Ed Newcomer's determined crusade to halt the career of a brazen and ingenious criminal with an almost supernatural sixth sense for survival. But the story doesn't end there. Speart chronicles her own attempts, while researching the book, to befriend Kojima before betraying himunaware that the cagey smuggler had his own plans to make the writer a player in his illegal butterfly trade.
About the Author
A freelance journalist specializing in wildlife enforcement issues, Jessica Speart has been published in the New York Times Sunday Magazine, OMNI, Travel & Leisure, Audubon, and many other publications. She is the author of several mysteries and lives in Connecticut.
Praise For Winged Obsession…
"A true thriller about an undercover U.S. Fish and Wildlife agent hunting for the 'human vacuum cleaner' of the insect world."
-Cleveland Plain Dealer

"Reads like a suspense thriller."
-Oklahoma City Oklahoman

Winged Obsession offers a fascinating glimpse into the illegal market in exotic and endangered butterflies....By the end of Winged Obsession, I was rooting for creatures I didn't know existed before I read the book.
-Miami Herald

Butterfly smugglers? Who knew? Journalist Jessica Speart chases down the butterfly world's most elusive criminal, the notorious Yoshi Kojima, in her fantastic new book. It's a journey with the twists and turns of a taut thriller — like The Orchid Thief, only with wings.
-Daily Candy

Meet the Hannibal Lecter of the conservation world... this expose reads like a thriller and proves once again that truth is stranger than fiction.
-Lee Child, New York Times Bestselling author

Winged Obsession is an unputdownable thriller.... I loved this book!
-Lisa Scottoline, New York Times Bestselling author