Fifth Avenue, 5 A.M.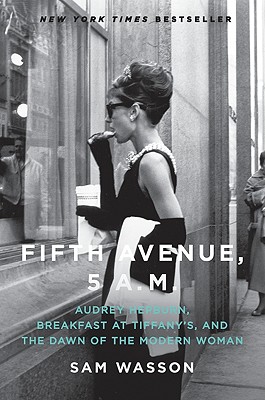 Fifth Avenue, 5 A.M.
Audrey Hepburn, Breakfast at Tiffany's, and the Dawn of the Modern Woman
Harperstudio, Hardcover, 9780061774157, 231pp.
Publication Date: June 22, 2010
* Individual store prices may vary.
Buy at Local Store
Enter your zip code below to purchase from an indie close to you.
or
Not Currently Available for Direct Purchase
Description
Audrey Hepburn is an icon like no other, yet the image many of us have of Audreydainty, immaculateis anything but true to life. Here, for the first time, Sam Wasson presents the woman behind the little black dress that rocked the nation in 1961. The first complete account of the making of Breakfast at Tiffany's, Fifth Avenue, 5 A.M. reveals little-known facts about the cinema classic: Truman Capote desperately wanted Marilyn Monroe for the leading role; director Blake Edwards filmed multiple endings; Hepburn herself felt very conflicted about balancing the roles of mother and movie star. With a colorful cast of characters including Truman Capote, Edith Head, Givenchy, "Moon River" composer Henry Mancini, and, of course, Hepburn herself, Wasson immerses us in the America of the late fifties before Woodstock and birth control, when a not-so-virginal girl by the name of Holly Golightly raised eyebrows across the country, changing fashion, film, and sex for good. Indeed, cultural touchstones like Sex and the City owe a debt of gratitude to Breakfast at Tiffany's.
In this meticulously researched gem of a book, Wasson delivers us from the penthouses of the Upper East Side to the pools of Beverly Hills, presenting Breakfast at Tiffany's as we have never seen it beforethrough the eyes of those who made it. Written with delicious prose and considerable wit, Fifth Avenue, 5 A.M. shines new light on a beloved film and its incomparable star.
Praise For Fifth Avenue, 5 A.M.…
"So smart and entertaining it should come with its own popcorn."
-People

"A bonbon of a book...as well tailored as the little black dress the movie made famous."
-Janet Maslin, New York Times

"Anyone even slightly interested in Capote/Hepburn/Breakfast at Tiffany's will delight in [Wasson's] account."
-USA Today

"This splendid new book is more than a mere 'making-of' chronicle. Wasson has pulled it off with verve, intelligence, and a consistent ring of truth...compulsively readable. Fifth Avenue, 5 A.M. is both enjoyable and informative: everything a film book ought to be."
-Leonard Maltin, author of Leonard Maltin's 151 Best Movies You've Never Seen

"A fascination with fascination is one way of describing Wasson's interest in a film that not only captures the sedate elegance of a New York long gone, but that continues to entrance as a love story, a style manifesto, and a way to live."
-New York magazine

"Crammed with irresistible tidbits…[Wasson's] book winds up as well-tailored as the kind of little black dress that Breakfast at Tiffany's made famous."
-New York Times

"Fifth Avenue, 5 A.M. offers lots of savory tidbits [from the making of Breakfast at Tiffany's]. Mr. Wasson brings a lively and impudent approach to his subject."
-Wall Street Journal

"Wasson's story is part encyclopedia, part valentine, and worth reading just to find out what exactly went into making the amazing party scene."
-The Huffington Post

"Sam Wasson is a fabulous social historian...[Fifth Avenue, 5 AM] is as melancholy and glittering as Capote's story of Holly Golightly."
-The New Yorker

"A brilliant chronicle of the creation of Breakfast at Tiffany's. Wasson has woven the whole so deftly that it reads like a compulsively page-turning novel. This is a memorable achievement."
-Peter Bogdanovich

"Wasson offers enough drama to occupy anyone for days...The whole thing reads like a cool sip of water."
-Daily News

"Reads like carefully crafted fiction…[Wasson] carries the reader from pre-production to on-set feuds and conflicts, while also noting Hepburn's impact on fashion (Givenchy's little black dress), Hollywood glamour, sexual politics, and the new morality. Capote would have been entranced."
-Publishers Weekly (starred review)

"A breezy tale of dresses and breakfast pastries, this is not.... The subtexts of Breakfast at Tiffany's—materialism, sexual freedom—were decidedly more complicated."
-Women's Wear Daily

"Rich in incident and set among the glitterati of America's most glamorous era, the book reads like a novel…[Wasson] has assembled a sparkling time capsule of old Hollywood magic and mythmaking."
-Kirkus Reviews

"The anecdotes are numerous and deftly told. This well-researched, entertaining page-turner should appeal to a broad audience, particularly those who enjoy film history that focuses on the human factors involved in the creative process while also drawing on larger social and cultural contexts."
-Library Journal

"Sam Wasson unfolds the dramatic story of the film's creation. He also offers a fascinating slice of social history."
-Arrive Magazine

"Reading a book about a movie is seldom as entertaining as watching the film, but Wasson's is the rare exception."
-Christian Science Monitor

"[We] couldn't put down Sam Wasson's new book, Fifth Avenue, 5 A.M..... Along with juicy film gossip, the book offers behind-the-scenes insight on how Hepburn and designer Hubert de Givenchy created Holly Golightly's iconic style."
-AOL Stylelist

"Sam Wasson's exquisite portrait of Audrey Hepburn peels backs her sweet facade to reveal a much more complicated and interesting woman. He also captures a fascinating turning point in American history— when women started to loosen their pearls, and their inhibitions. I devoured this book."
-Karen Abbott, author of Sin in the Second City
Saturday, Jul 31, 2010
In 1961, the character Audrey Hepburn brought to life in the movie Breakfast at Tiffany's captured the imagination of an America on the cusp of a sexual revolution. Writer Sam Wasson shows how Hollywood made a hit out of a story about a call girl. More at NPR.org
Monday, May 31, 2010
Susan Stamberg gathers recommendations from booksellers Rona Brinlee, Lucia Silva and Daniel Goldin. Their selections for summertime reading include books about small-town America, a polygamist father in over his head, and a postmistress in New England during World War II. More at NPR.org