You Never Give Me Your Money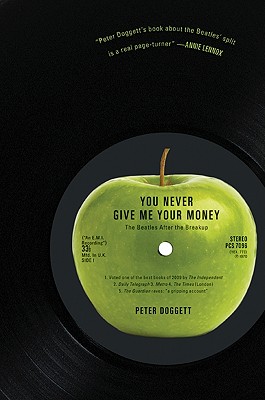 You Never Give Me Your Money
The Beatles After the Breakup
HarperTorch, Hardcover, 9780061774461, 390pp.
Publication Date: June 8, 2010
* Individual store prices may vary.
Buy at Local Store
Enter your zip code below to purchase from an indie close to you.
or
Buy Here
Description
The world stopped in 1970 when Paul McCartney announced that he was through with the Beatles. His statement not only marked the end of the band's remarkable career, but also seemed to signal the demise of an era of unprecedented optimism in social history. Though the Beatles' breakup was widely viewed as a cultural tragedy, one of the most fascinating phases of their story was just about to begin.
Now, for the first time, You Never Give Me Your Money tells the behind-the-scenes story of the personal rivalries and legal feuds that have dominated the Beatles' lives since 1969. Journalist Peter Doggett charts the Shakespearean battles between Lennon and McCartney, the conflict in George Harrison's life between spirituality and fame, and the struggle with alcoholism that threatened to take Richard Starkey's life. In vivid detail, Doggett also describes the wild mismanagement of the Beatles' fortune staked largely in Apple Corps.
You Never Give Me Your Money is a compelling human drama and an equally rich and absorbing story of the Beatles' creative and financial empire, set up to safeguard their interests but destined to control their lives. From tragedy to triumphant reunion, and chart success to courtroom battles, this meticulously researched work tells the previously untold story of a group and a legacy that will never be forgotten.
About the Author
Peter Doggett's books include Are You Ready for the Country: Elvis, Dylan, Parsons and the Roots of Country Rock, the award-winning There's a Riot Going On: Revolutionaries, Rock Stars and the Rise and Fall of the '60s, and You Never Give Me Your Money: The Beatles After the Breakup, which was chosen as one of the 10 Best Books of 2010 by the Los Angeles Times.
Praise For You Never Give Me Your Money…
"Doggett documents rock's most agonizing four-way divorce. Rigorously researched, You Never Give Me Your Money is a dark but compelling endnote to rock's greatest story."
-Rolling Stone

"I had such a ball reading You Never Give Me Your Money: The Beatles After the Breakup that once I finished, I returned to page one and read it all over again."
-Newsweek

"Elegant and deeply researched...You Never Give Me Your Money posits a nuanced afterlife for the Beatles. [Peter Doggett] has found a new lens (and much new information) through which to consider the band."
-Los Angeles Times

"Doggett has crafted an authentic and enlightening book full of myth-busting surprises and insight."
-Library Journal

"Fascinating…Doggett captures the competitive sparks that flew among the four men, especially between Lennon and Paul McCartney, and also the mutual affection that formed the basis of their complicated relationships…A must for Beatles fans and good for more casual pop-music enthusiasts, too."
-Booklist

"Peter Doggett's book about the Beatles' split is a real page-turner."
-Annie Lennox

"an enthralling new book on [The Beatles]…impossible to put down"
-The Independent

"Doggett, a music journalist, offers refreshingly straightforward and highly readable portraits of the leading players"
-Daily Telegraph (London)

"a gripping account that portrays [The Beatles] as something much more interesting than the airbrushed Gods we've recently seen: damaged, eternally bickering men, left punch-drunk by the group's success"
-The Guardian

"What Doggett has achieved is a laying bare of the darker consequences of enormous fame and wealth. Yes, there is the glory but there's also the concomitant pressure of how to deal with the myth and the legacy – while trying to keep four very different voices in harmony."
-Irish Times

"Doggett's book charts an admirably unstarry-eyed path through the break-up of the band and beyond."
-Metro London

"[Doggett's] identification of the forces that drove The Beatles apart and kept them so for the best part of 30 years is not new, but his forensic tenacity and unyielding gaze are."
-Mojo

"a breathtaking record of uncontrolled fame's grotesque side-effects"
-Q