The Modern Girl's Guide to Sticky Situations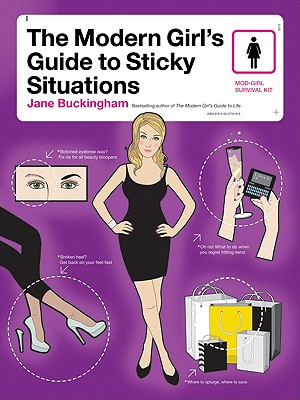 The Modern Girl's Guide to Sticky Situations
Avon A, Paperback, 9780061776359, 359pp.
Publication Date: May 11, 2010
* Individual store prices may vary.
Buy Now
or
Shop Local
Enter your zip code below to purchase from an indie close to you.
Description
This is the book to grab when . . . you're pulling your hair out, screaming like a banshee, blubbering with frustration, or hyperventilating because you just don't know what to do
Jane Buckingham, author of The Modern Girl's Guide to Life, is back with a collection of helpful quick fixes for the deserving gal with the best intentions who gets caught in sticky situations. Here are warm, witty, and eminently wise solutions to those everyday problems that pop up as a result of impulsive actions or just plain bad luck--helpful hints on what to do if you: Send an e-mail you instantly regretBotch your self-tanDiscover your best friend's husband is cheating on herBreak your corkscrew while opening your only bottle of wineRun into your ex and need to look hot, fast Are expected to name your baby after a family member with an awful name
And that's just a small sampling of the scenarios for which Jane Buckingham offers solutions in The Modern Girl's Guide to Sticky Situations. So if you find yourself in a pickle . . . just leave it to Jane.
About the Author
Jane Buckingham is the president of Trendera, an innovative marketing and media consulting firm with numerous Fortune 500 companies as clients. She is a contributing editor to Cosmopolitan, a regular guest on Good Morning America and The View, and was recently named by Elle as one of the 25 Most Powerful Women in Hollywood. She lives in Los Angeles with her husband, bestselling business author Marcus Buckingham, and their two children, Jack and Lilia.
Praise For The Modern Girl's Guide to Sticky Situations…
"A lifesaver…. [The Modern Girl's Guide to Sticky Situations is] the paperback personification of a BFF, and you won't want to leave home without it."
-LATimes.com