In Praise of Doubt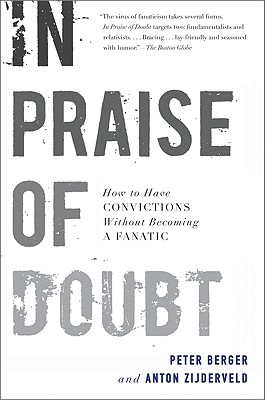 In Praise of Doubt
How to Have Convictions Without Becoming a Fanatic
HarperOne, Paperback, 9780061778179, 189pp.
Publication Date: November 12, 2014
* Individual store prices may vary.
Buy at Local Store
Enter your zip code below to purchase from an indie close to you.
or
Buy Here
Description
Why Religion, Politics and Culture and even Truth need Doubt to survive.
About the Author
Peter L. Berger is university professor of religion and sociology and director of the Institute for the Study of Economic Culture at Boston University.

Anton C. Zijderveld is professor of general sociology and dean of the faculty of social sciences at Erasmus University, Rotterdam. He has taught in the United States and Canada. Among his publications are "The Abstract Society, On ClichUs, Reality in a Looking-Glass", and from Transaction, "A Theory of Urbanity: The Economic and Civic Culture of Cities. "
Praise For In Praise of Doubt…
"We need more books like this: books that advance an argument, and do so concisely, wittily, with great learning lightly worn."
-John Wilson, editor, Books & Culture

"IN PRAISE OF DOUBT is a book of great practical wisdom by authors who have profound insight into the intellectual dynamics governing contemporary life.."
-Dallas Willard, author of Knowing Christ Today

"Brilliant yet clear, highly illuminating and often humorous, this is vintage Berger spiced with Zijderveld's philosophical perspectives. In Praise of Doubt is essential reading for people of all faiths - and not least secularists."
-Os Guinness, author of The Case for Civility

"The best parts of In Praise of Doubt explore the cultural battlegrounds where a consensus has broken down or not yet coalesced . . . Messrs. Berger and Zijderveld are optimistic: They believe that moral progress is on the march and that moderation is a virtue everyone can agree on."
-Wall Street Journal

"In his new book In Praise of Doubt, sociologist Peter Berger discusses the dangers of absolute certainty and [quotes] Oliver Cromwell: 'I beseech you, in the bowels of Christ, think it possible you may be mistaken.' That seems an appropriate caveat in the matter of the sanctuary as well."
-Trenton NJ Times

"This is . . . a serious attempt to explain how to find middle ground between conviction - religious and otherwise - and doubt. . . . In fact, Berger and Zijderveld argue that doubt -- especially as expressed in the idea of a loyal opposition -- is at the heart of a democratic system."
-Los Angeles Times

"Peter Berger along with co-author Anton Zijderveld has written… the kind of book that, well, just from the cover I would have to buy it and read it. And then to see Peter Berger's name on it, that just clinches the deal…. he is literally without peer."
-Albert Mohler, AlbertMohler.com

"This book addresses, both broadly and individually, how to balance dedication to strong religious and moral beliefs, while simultaneously being objective and discerning. This book grapples, in a thoughtful, entertaining way with these and other meaty philosophical questions."
-Reference & Research Book News