How Jesus Became God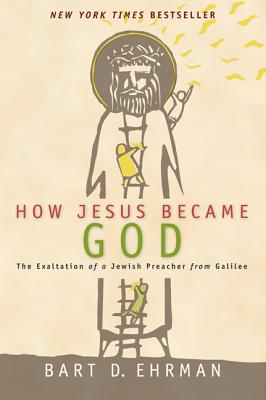 How Jesus Became God
The Exaltation of a Jewish Preacher from Galilee
HarperOne, Hardcover, 9780061778186, 404pp.
Publication Date: March 2014
* Individual store prices may vary.
Shop Local
Enter your zip code below to find indies closest to you.
Description
In a book that took eight years to research and write, leading Bible scholar Bart D. Ehrman explores how an apocalyptic prophet from the backwaters of rural Galilee crucified for crimes against the state came to be thought of as equal with the one God Almighty Creator of all things.
Ehrman sketches Jesus's transformation from a human prophet to the Son of God exalted to divine status at his resurrection. Only when some of Jesus's followers had visions of him after his death--alive again--did anyone come to think that he, the prophet from Galilee, had become God. And what they meant by that was not at all what people mean today.
As a historian--not a believer--Ehrman answers the questions: How did this transformation of Jesus occur? How did he move from being a Jewish prophet to being God? The dramatic shifts throughout history reveal not only why Jesus's followers began to claim he was God, but also how they came to understand this claim in so many different ways.
Written for secular historians of religion and believers alike, How Jesus Became God will engage anyone interested in the historical developments that led to the affirmation at the heart of Christianity: Jesus was, and is, God.
About the Author
Bart D. Ehrman is one of the most renowned and controversial Bible scholars in the world today. A master explainer of Christian history, texts, and traditions, his work continues to drive debate among supporters and detractors alike. Ehrman is the James A. Gray Distinguished Professor of Religious Studies at the University of North Carolina, Chapel Hill, and is the author of more than twenty books, including the New York Times bestselling Misquoting Jesus; God's Problem; Jesus, Interrupted; and Forged. Ehrman has appeared on Dateline NBC, The Daily Show with Jon Stewart, CNN, the History Channel, and top NPR programs, and he has been featured in Time, the New York Times, The New Yorker, The Washington Post, and more.
Monday, Apr 7, 2014
In How Jesus Became God, Bart Ehrman explores how a Jewish preacher from Galilee was transformed into a deity. "Jesus himself didn't call himself God and didn't consider himself God," Ehrman says. More at NPR.org