George Lucas's Blockbusting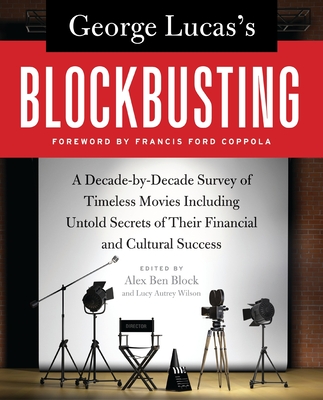 George Lucas's Blockbusting
A Decade-By-Decade Survey of Timeless Movies Including Untold Secrets of Their Financial and Cultural Success
It Books, Paperback, 9780061778896, 944pp.
Publication Date: January 1, 2010
* Individual store prices may vary.
Not Currently Available for Direct Purchase
or
Shop Local
Enter your zip code below to purchase from an indie close to you.
Description
By meticulously compiling the details of how movies have been made and financed since the medium's inception, chronicling their performances at the box office, and offering expert commentary about the most important trends of the last one hundred years, the authors of this book have given readers a singularly unique perspective on the film-making industry and a superlative blueprint for future successful filmmaking ventures.
Taking us decade by decade, this book focuses on the revenues, costs, production and distribution of 300 of the most critically and financially successful movies of all time from the business's origins through 2005. Its numerous essays examine trends in war, noir, bio-drama, biblical, epic, musical, western, disaster, crime, and action adventure films, as well as the advent the summer movie, auteur filmmaking, and the revolutionary advances that have been made in film technology over time. Furthermore, its full complement of charts, graphs and diagrams presenting such things as salary histories, awards and honors, the number of principal photography days required, advertising expenditures, domestic versus overseas profits and more, also include conversions of past movie-making dollars into current dollar values for easy and relevant comparisons.
The ideal resource for filmmakers of every kind, this book evidences that blockbusters have not only been made on relatively low budgets before, but that they have been made time and time again through varying economic climates.
George Lucas's Blockbusting is indispensible reading for all who love and contribute to the film business.
About the Author


Lucy Autrey Wilson began her career with Lucasfilm in 1974, typing the script to the first Star Wars movie on an IBM Selectric typewriter. Over the years, she developed her accounting skills in areas as diverse as construction, gas and oil exploration, special effects, film, and licensing. In the late 1980s, she established a completely new "Star Wars" publishing program and worked on more than 1,500 titles, including sixty-three "New York Times" bestsellers, before moving on to new challenges in nonfiction publishing. With a BA in English Literature and an MBA in Finance, she has recently been able to combine her love of words and numbers doing the editorial and research required to translate George Lucas's intellectual curiosity into books.

Francis Ford Coppola has written, directed, and produced numerous films. The artistic director of Zoetrope Studios, he lives in San Francisco.