86'd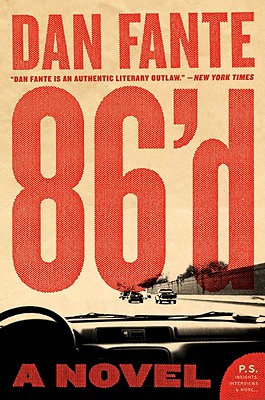 86'd
Harper Perennial, Paperback, 9780061779220, 245pp.
Publication Date: September 22, 2009
* Individual store prices may vary.
Buy at Local Store
Enter your zip code below to purchase from an indie close to you.
or
Buy Here
Description
In Los Angeles, struggling telemarketer-writer and part-time drunk Bruno Dante is jobless again. The publication of his book of short stories has been put off indefinitely. Searching the want ads for a gig, he finds a chauffeur job. When Bruno calls the number in the ad, he discovers the boss is his former Manhattan employer David Koffman, who is opening a West Coast branch of his thriving limo service. Koffman hires Bruno as resident manager of Dav-Ko Hollywood under one condition: he must remain sober. But instant business success triggers an abrupt booze-and-blackout-soaked downward spiral for Bruno, forcing him to confront his own madness as he struggles to keep his old familiar demons from getting the best of him yet again.
Praise For 86'd…
"Told in a free-flowing narrative style that features a number of memorable characters, Fante's novel is dark, bleak, gritty, and inventively vulgar. It's also honest, painful, and occasionally tender."
-Booklist

"Dan Fante is an authentic literary outlaw."
-New York Times

"If you like your prose vodka-soaked, soulful, and bleeding on the page, then Fante is your man."
-Ben Meyers, 3AM Magazine

"Fante is a brilliantly economical stylist . . . sad, bitter, yet somehow infused with hope."
-The Face

"Fante offers moments that brush the genius of Bukowski and Hubert Selby, Jr."
-Elle Magazine

" I can describe Dan Fante's work in one word... sublime."
-Soud-Ouest, France.

Readers who don't hang up... won't be able to stop listening
-New York Times

"...writing that is a violent lyrical blizzard...."
-Uncut Magazine

"Fante's voice is strong, fun, smart and edgy and it makes 86'd a great read."
-San Francisco Book Review

"With Fante, and his father before him, there are never any false feelings or pretentiousness in the work... you know he has been where he writes from, and judging by the sound of things, it has been one hell of a wild ride."
-Sacramento Book Review
Friday, Feb 19, 2010
Novelist and playwright Dan Fante writes about alcoholism, drug addiction and failed attempts at literary success — all of which he has experienced himself. He discusses his novel, 86'd, battling his own emotional demons, and the process of reliving his past on paper. More at NPR.org
Tuesday, Sep 29, 2009
Novelist and playwright Dan Fante writes about alcoholism, drug addiction and failed attempts at literary success — all of which he has experienced himself. He discusses the process of reliving his past on paper. More at NPR.org