Born to Kill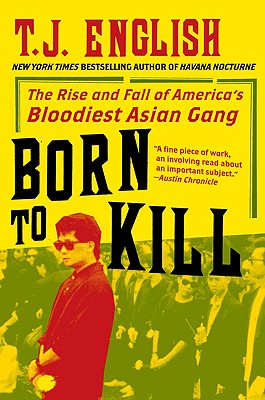 Born to Kill
The Rise and Fall of America's Bloodiest Asian Gang
Harper Paperbacks, Paperback, 9780061782381, 310pp.
Publication Date: June 9, 2009
* Individual store prices may vary.
Buy at Local Store
Enter your zip code below to purchase from an indie close to you.
or
Buy Here
Description
Throughout the late eighties and nineties, a gang of young Asian refugees cut a bloody swath through New York's Chinatown. They were the lost children of the Vietnam War, severed from their families by violence and cast adrift in a strange land. Banding together under the leadership of a megalomaniacal young psychopath, David Thai, they took their name from a slogan they had seen on helicopters and the helmets of U.S. soldiers: "Born to Kill." For a decade their empire was unassailable, built on a foundation of fear, ruthlessness, and unimaginable brutality--until one courageous gang brother helped bring it down from the inside.
Praise For Born to Kill…
"A revealing, exciting read. …A must for anyone interested in the emerging multiethnic face of organized crime in the United States."
-Washington Post Book World

"English is an accomplished storyteller… Born to Kill delivers more than its share of surprises and suspense."
-New York Newsday

"Entertaining, exciting… puts a spotlight on an aspect of the Vietnamese-American experience that enriches understanding of our complex society."
-Oakland Tribune

"Hard-hitting…torrid and fascinating…Born to Kill is a fine piece of work, an involving read about an important subject."
-Austin Chronicle

"An unforgettable account…essentially a crime story, it also explores themes of displaced humanity and unattainable American prosperity, as well as the Asian experience in America….an intriguing glimpse into the historically clandestine world of organized crime."
-Booklist

"A vivid look at the exotic world of Asian organized crime and one young man's attempt to escape it….The book has the dramatic force of a novel and the satisfying shape of a story well told."
-Library Journal

"An alarming portrait… smoothly readable."
-Kirkus Reviews

"T.J. English has hit the bullseye again."
-Publishers Weekly

"A great read; an exciting, frightening account of organized crime today. …This book is must reading for anyone with an interest in the enduring effects of the Vietnam War, the subject of crime in our streets, and the issue of personal responsibility in a harsh, chaotic world."
-Le Ly Hayslip, author of When Heaven and Earth Changed Places