Muhammad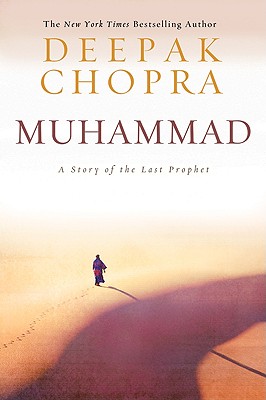 Muhammad
A Story of the Last Prophet
HarperOne, Hardcover, 9780061782428, 267pp.
Publication Date: October 1, 2010
* Individual store prices may vary.
Buy at Local Store
Enter your zip code below to purchase from an indie close to you.
or
Buy Here
Description
"Compassionate and clear...a courageous undertaking." --Greg Mortenson, New York Times bestselling author of Three Cups of Tea and Stones into Schools

"As a scholar and storyteller extraordinaire, Deepak Chopra portrays a morally courageous yet highly human messenger of God." --Irshad Manji, Director, Moral Courage Project, New York University

From the New York Times bestselling author of Buddha and Jesus comes the page-turning and soul-stirring story of Muhammad. Deepak Chopra--easily one of the most influential spiritual leaders in the world today--delivers this stunning, sincere, and highly accessible portrait of the Prophet of Islam. Chopra's Muhammad is an outstanding resource for everyone who thinks they should know more about the man who inspired the world's fastest-growing religion.

Praise For Muhammad…
"Chopra shows that neither revering nor reviling Muhammad will unlock the meaning he embodied. So what will? Chopra's answer is bound to challenge Muslims and non-Muslims alike."
-Irshad Manji, Director, Moral Courage Project, New York University

"Chopra takes us into the past through the Prophet Muhammad's journey, and brings wisdom and perspective to an often misunderstood figure. His compassionate and clear depiction is a courageous undertaking, and a valuable effort against the enemy of ignorance. An important and timely book, indeed."
-Greg Mortenson, New York Times bestselling author of Three Cups of Tea and Stones into Schools

"I am grateful that Deepak Chopra, instead of adding to the often useless pile of [Muhammad] biographies, has instead crafted an absorbing novel based on Muhammad's life. Any reader will come away better informed both about the prophet himself and about Islam, the world's second largest religion."
-Harvey Cox, Hollis Research Professor of Divinity at Harvard University, and author of The Future of Faith

"It's worth discovering Muhammad through Deepak Chopra."
-Ayaan Hirsi Ali, bestselling author of Infidel and Nomad

"Compellingly told, this is not only good storytelling, it also helps readers, especially non-Muslims, better understand the complexities and contradictions surrounding Islam."
-Booklist

"[O]ne of the most imaginative and touching biographies of Muhammad….Chopra's grasp of Muhammad's life and mission extends his range in a surprising direction; his popularization is welcome."
-Publishers Weekly

"...an intricate, deeply considered depiction of the Prophet's life. At a time when Muhammad is largely misunderstood outside (and sometimes inside) of the Muslim world, the novel givesa vivid voice to his story."
-The Daily Beast

"It is a positive portrait that nonetheless points to human flaws and complexities."
-The Arizona Republic

"...profound summation of his life, teachings, and service of humanity..."
-Spirituality & Practice

"His approach is as engaging as it is informative and deeply humanizing. The first-person narratives each paint a new layer onto the picture of the Beloved of God, in all his humanity and complexity and perfection."
-Dalia Mogahed, in a Huffington Post review

"...the finest of his long shelf of books. ...Chopra returns in his own attractive voice with one of the more level, tough-love, discussions of Islamic religion available."
-The Daily Beast

"[Chopra] produces an imaginative, evocative rendition of what it must have been like to be in the company of such an individual, making his way in an environment in many ways so alien to our own."
-The Historical Novels Review