Family of Shadows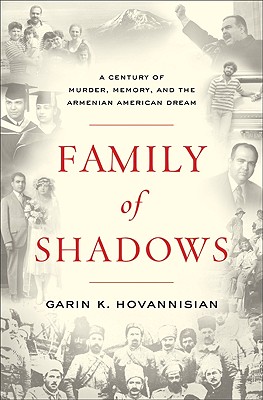 Family of Shadows
A Century of Murder, Memory, and the Armenian American Dream
HarperTorch, Hardcover, 9780061792083, 272pp.
Publication Date: September 21, 2010
* Individual store prices may vary.
Buy at Local Store
Enter your zip code below to purchase from an indie close to you.
or
Not Currently Available for Direct Purchase
Description
As a world war rages through Europe in 1915, Ottoman authorities commence the systematic slaughter of 1.5 million Armenians the first genocide of modern history. A teenage boy named Kaspar Hovannisian is among the surviving generation of Armenians who escape the ruins of their ancestral homeland and build communities around the world. Kaspar follows the American dream to the San Joaquin Valley of California, where he cultivates a small farm and begins investing in real estate. But memories of Armenia burn strong a legacy of love, anguish, and faith in a national rebirth.
Kaspar's son Richard leaves the family farm, ready to defend the history of a lost nation against the forces of time and denial. He helps pioneer the field of Armenian studies in the United States and becomes a worldwide authority on genocide. Richard's son Raffi is also haunted and inspired by the past. In 1989 he leaves his law firm in Los Angeles to stage the original act of repatriation to Soviet Armenia, where he goes on to play a historic role in the creation of a new and independent republic. Now, in a moving book that is part investigative memoir and part history of the Armenian people, Raffi's son, Garin Hovannisian, tells his family's story a tale of tragedy, memory, and redemption that illuminates the long shadows that history casts on the lives of men.
About the Author
Garin K. Hovannisian is a recipient of the Fulbright Fellowship in Creative Writing and the Lynton Award for Book Writing. He lives in Los Angeles and Yerevan, Armenia. He has written for the New York Times, the Los Angeles Times, and Liberty.
Praise For Family of Shadows…
"Garin Hovannisian brings a historian's rigor, a poet's lyricism, and a native son's passion to this remarkable book. Intimate as memoir yet expansive as an epic, Family of Shadows puts the Armenian experience, in all its tragedy and triumph, into memorably human terms."
-Samuel G. Freedman, author of Who She Was: My Search for My Mother's Life

"Weaving together history, culture, and original reporting, Family of Shadows is an inspired tribute, full of passion and appreciation for the genealogy of the Hovannisian family and its transformation into an American success story."
-Dr. Vartan Gregorian, President of Carnegie Corporation of New York and author of The Road to Home: My Life and Times

With what one can only describe as an artistic skill, Garin Hovannisian interleaves the micro-story of his resilient family with the macro-narrative of the Armenian Genocide. One swiftly learns to appreciate the true meaning of the word 'indestructible'.
-Christopher Hitchens, author of Hitch-22: A Memoir

"Garin Hovannisian tells one of modern history's great unexamined stories. Whether you are an Armenian American like me or come to this story anew, Family of Shadows will move you with the intensity and intimacy of its detail."
-David Ignatius, columnist for The Washington Post and author of Body of Lies

"Hovannisian narratives in a swift, novel-like style... Cultural history and memoir gracefully entwined."
-Kirkus Reviews