Invisible Inkling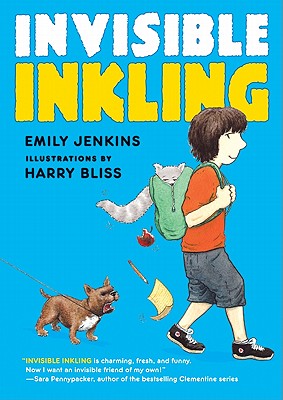 Invisible Inkling
Balzer & Bray/Harperteen, Hardcover, 9780061802201, 154pp.
Publication Date: April 26, 2011
* Individual store prices may vary.
Buy at Local Store
Enter your zip code below to purchase from an indie close to you.
or
Buy Here
Description
The thing about Hank's new friend Inkling is, he's invisible.
No, not imaginary. Inkling is an invisible bandapat, a creature native only to the Peruvian Woods of Mystery. (Or maybe it is the Ukrainian glaciers. Inkling hardly ever gets his stories straight.)
Now Inkling has found his way to Brooklyn and into Hank's laundry basket on his quest for squash--bandapats' favorite food. But Hank has bigger problems than helping Inkling fend off maniac doggies and search for yummy pumpkins: Bruno Gillicut is a lunch-stealing dirtbug caveperson and he's got to be stopped. And who better to help stand up to a bully than an invisible friend?
Praise For Invisible Inkling…
INVISIBLE INKLING is charming, fresh, and funny. Now I want an invisible friend of my own!
-Sara Pennypacker, author of the New York Times bestselling Clementine series

"Gently humorous and nicely realistic (with the obvious exception of the invisible Peruvian Bandapat). Anyone who has ever had an imaginary friend will appreciate sassy Inkling (who's invisible-not imaginary)."
-Kirkus Reviews

"Thoughtfully grounded, gently kooky chapter book. Jenkins colors her mostly realistic tale with enough bits of mystery and silliness to hold readers' attention"
-Publishers Weekly

"A mix of wild humor, fantasy, and sadness, this series starter offers a moving story about defeating bullies. The story will grab readers with its comedy and captivating sidekick."
-Booklist

"I love INVISIBLE INKLING, so funny and satisfying and yet poised for the next installment."
-Paul O. Zelinsky