Tough Calls from the Corner Office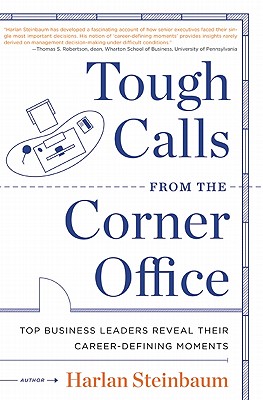 Tough Calls from the Corner Office
Top Business Leaders Reveal Their Career-Defining Moments
HarperBusiness, Hardcover, 9780061802492, 271pp.
Publication Date: February 8, 2011
* Individual store prices may vary.
Buy at Local Store
Enter your zip code below to purchase from an indie close to you.
or
Not Currently Available for Direct Purchase
Description
"Tough Calls from the Corner Office offers invaluable insight into the mind of the CEO." --Bill Steere, President, Chairman, and CEO of Pfizer

"The stories in this book should inspire and give confidence to the many people looking to make their mark in business, or for that matter life." --General Richard B. Myers, Chairman, Joint Chiefs of Staff

Fortune 500 executive Harlan Steinbaum collects the wisdom of America's most successful business leaders in this powerful and inspiring guide to decision-making for your life and career. Thirty-nine of America's top executives, from ESPN's Bill Rasmussen to United Airlines' Gerald Greenwald, along with many other, relate the most important decisions of their careers, sharing why they struggled, how they decided, and what the lessons are they learned along the way--enabling you to achieve more, today.

Praise For Tough Calls from the Corner Office…
"Tough Calls from the Corner Office offers invaluable insight into the mind of the CEO. Harlan Steinbaum's book reveals how companies are only as good as the instincts, and the guiding principles of the people who run them."
-Bill Steere, President, Chairman, and CEO of Pfizer

"Harlan Steinbaum has developed a fascinating account of how senior executives faced their single most important decision. His notion of Tough Calls from the Corner Office provides insights rarely derived on management decision-making under difficult conditions."
-Thomas S. Robertson, Dean, Wharton School of Business, University of Pennsylvania

"This book is wonderful. I enjoyed every story -- every part of it. The stories in this book should inspire and give confidence to the many people looking to make their mark in business, or for that matter life."
-General Richard B. Myers, Chairman Joint Chiefs

"Refreshingly intimate and candid, these personal reflections from some of America's top business leaders offer insight into their choices and decisions. CEOs and those aspiring to lead will find inspiration here."
-Jessica Bibliowicz, CEO, National Financial Partners Corp

"Tough Calls from the Corner Office is a treasure of a book. Stories from a wide array of remarkable and wise business talent reward the reader with invaluable insight into what it means to follow one's dreams, lead people and maintain a moral compass."
-Jim Gold, President/CEO, Bergdorf Goodman

"Tough Calls from the Corner Office provides a unique opportunity to witness—and learn from —decision-making in action at the highest levels of business in times of crisis."
-Mahendra Gupta, Dean, Olin Business School at Washington University

"This collection of defining moments offers key insights into the birth of some great strategies. Very interesting. What struck me is the diversity and breadth of some of those decisions and how each one became a driving force. This is a great read."
-Cindy Brinkley, Senior Vice Prewident, Talent Development and Chief Diversity Officer, AT&T

"Tough Calls from the Corner Office" is a great read for anyone who is interested in the interplay between character, luck, and talent in the lives of successful people. "
-Bill DeWitt III, President, St. Louis Cardinals

"Mr. Steinbaum captures the fundamental critical moments of an executive's life and packages them in a comprehensive and very accessible way. His commentary frames these moments within the larger context of an executive's life - and the executives' stories he shares are both rich in their diversity and their relevance."
-Evelyn Williams, Director, Center for Leadership Development & Research, Leadership Laboratories, Graduate School of Business, Stanford University

"This compilation of business success stories will engage anyone looking for inspiration. The stories are varied but the storytellers all share a common characteristic - the instinct to recognize a significant career opportunity"
-Francis Fraenkel, Managing Director, Neuberger Berman LLC

"Tough Calls from the Corner Office is a unique casebook of management decision making. Each case is incisive, authoritative, original . . . and short. Harlan Steinbaum's new book can usefully be read by both students and managers.
-Murray L. Weidenbaum, Former Assistant Secretary of the Treasury (1969-1971), former Chairman of the President's Council of Economic Advisors (1981-1982), founder of the Murray Weidenbaum Center On the Economy, Government, and Public Policy, Washington Un