The Taste of Tomorrow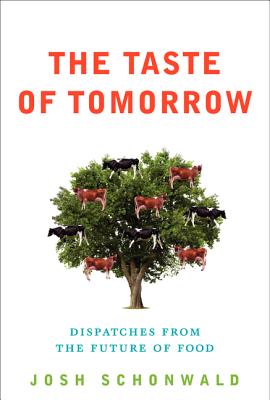 The Taste of Tomorrow
Dispatches from the Future of Food
HarperTorch, Hardcover, 9780061804212, 294pp.
Publication Date: April 2012
* Individual store prices may vary.
Buy Now
or
Shop Local
Enter your zip code below to purchase from an indie close to you.
Description
A fascinating look at the people, trends, and technologies transforming the food of today and tomorrow
In The Taste of Tomorrow, journalist Josh Schonwald sets out on a journey to investigate the future of food. His quest takes him across the country and into farms and labs around the globe. From Alice Waters' microfarm to a Pentagon facility that has quietly shaped American supermarkets, The Taste of Tomorrow is a rare, behind-the-scenes glimpse at what we eat todayand what we'll be eating tomorrow.
Schonwald introduces us to a motley group of mad scientists, entrepreneurs, renegade farmers, and food engineers who are revolutionizing the food we eat. We meet the Harvard-trained pedia-trician who wants to change the way humans raise fish; a New York chef who believes he's found the next great ethnic cuisine; a lawyer-turned-nanotechnologist who believes he can solve human nutritional needs without using food.
In this lively and fascinating book, Schonwald explains how new foods happen; why some foods explode on the scene virtually overnight while others take decadesand countless failuresto catch on. And he doesn't shy away from controversy. Although the book begins as a simple search for "the salad, meat, seafood, and pad Thai of the future," Schonwald becomes increasingly focused on finding environmentally friendly foods of the future. Ultimately, he comes to believe that emerging scientific breakthroughsgenetic engineering, nanotechnology, food processingare essential to feeding the globe's expanding (and hungry) population.
About the Author
Josh Schonwald has written for the New York Times, the Washington Post, and Salon. He lives in Evanston, Illinois, with his wife, children, and indoor aquaponic system.
Praise For The Taste of Tomorrow…
"Josh Schonwald is an adventurous reporter and engaging writer whose appetite for his subject, so to speak, produces prose with just the right leavening of humor. If we are what we eat, his real subject is cultural self- definition"
-Ron Rosenbaum, author of Explaining Hitler and The Shakespeare Wars

"In his candid, sensible survey, Schonwald weighs carefully the pros and cons of our well-intentioned, but often blindsided 'foodie fundamentalism.'"
-Publishers Weekly

"The Taste of Tomorrowis a fascinating adventure through what will controversially, inevitably, and desirably be on your grocery list of the future."
-Dan Koeppel, author of Banana: The Fate of the the Fruit that Changed the World

"[An] enthusiastic exploration of a range of possible food futures."
-Booklist

"The author effectively pairs his personal experiences with significant research, interviews and lively anecdotes. An articulate food book that has an opinion without being preachy and that exudes a joy about food without being oversimplified."
-Kirkus Reviews

"Schonwald is a good-natured and curious guide whose lightness of touch keeps you reading. A non-foodie at the start, he grows into his quest, championing sustainable, local and even genetically modified food to help feed the world."
-Financial Times

"[Schonwald] has come up with a great deal of interesting information, much of which will surprise people who eat food without giving much thought to where it comes from."
-Washington Post

"This is a fun book…Schonwald has the talent to explain serious, complicated issues in ways the average reader will understand. He does it in an entertaining, often irreverent way that keeps you turning the pages…a provocative book."
-Chicago Tribune

"…all this food exploration is divided into manageable and palate-pleasing bites."
-Associated Press