The Taste of Tomorrow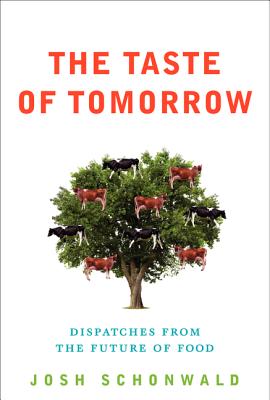 The Taste of Tomorrow
Dispatches from the Future of Food
HarperTorch, Hardcover, 9780061804212, 294pp.
Publication Date: April 10, 2012
* Individual store prices may vary.
Buy at Local Store
Enter your zip code below to purchase from an indie close to you.
or
Buy Here
Description
For fans of Michael Pollan and Mark Bittman, Josh Schonwald delivers a fascinating investigation into the trends and technologies that are transforming the world of food before our very eyes--from Alice Waters's micro farm to nanotechnology and beyond. Building upon the knowledge base we have gained from such books as The Omnivore's Dilemma, Schonwald takes our contemporary conversation about food a step further, debunking myths, clarifying controversies (such as the current storm over GMOs, or genetically modified organisms), and exploring the wild possibilities that food science and chemical engineering are making realities today--from food pills to new species of scratch-built fish.
Praise For The Taste of Tomorrow…
"Josh Schonwald is an adventurous reporter and engaging writer whose appetite for his subject, so to speak, produces prose with just the right leavening of humor. If we are what we eat, his real subject is cultural self- definition"
-Ron Rosenbaum, author of Explaining Hitler and The Shakespeare Wars

"In his candid, sensible survey, Schonwald weighs carefully the pros and cons of our well-intentioned, but often blindsided 'foodie fundamentalism.'"
-Publishers Weekly

"The Taste of Tomorrowis a fascinating adventure through what will controversially, inevitably, and desirably be on your grocery list of the future."
-Dan Koeppel, author of Banana: The Fate of the the Fruit that Changed the World

"[An] enthusiastic exploration of a range of possible food futures."
-Booklist

"The author effectively pairs his personal experiences with significant research, interviews and lively anecdotes. An articulate food book that has an opinion without being preachy and that exudes a joy about food without being oversimplified."
-Kirkus Reviews

"Schonwald is a good-natured and curious guide whose lightness of touch keeps you reading. A non-foodie at the start, he grows into his quest, championing sustainable, local and even genetically modified food to help feed the world."
-Financial Times

"[Schonwald] has come up with a great deal of interesting information, much of which will surprise people who eat food without giving much thought to where it comes from."
-Washington Post

"This is a fun book…Schonwald has the talent to explain serious, complicated issues in ways the average reader will understand. He does it in an entertaining, often irreverent way that keeps you turning the pages…a provocative book."
-Chicago Tribune

"…all this food exploration is divided into manageable and palate-pleasing bites."
-Associated Press