I'm Having More Fun Than You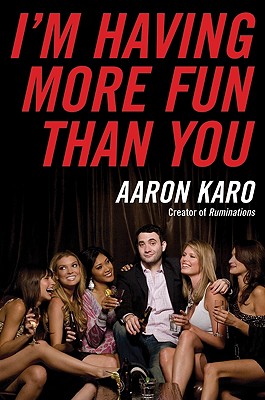 I'm Having More Fun Than You
It Books, Paperback, 9780061805219, 243pp.
Publication Date: September 1, 2009
* Individual store prices may vary.
Buy at Local Store
Enter your zip code below to purchase from an indie close to you.
or
Buy Here
Description
From Aaron Karo, stand-up comic and acclaimed author of Ruminations on College Life and Ruminations on Twentysomething Life, comes I m Having More Fun Than You, an irreverent exploration of why guys embrace bachelorhood and love flying solo in their twenties and thirties.
Praise For I'm Having More Fun Than You…
"Study the book I'm Having More Fun Than You by the hilarious Aaron Karo. He'll explain to you exactly how guys think."
-E. Jean Carroll, Elle

"Comedian Aaron Karo's new book is a seriously funny ode to single life. He explores the mating dance between single men and women with hysterical insight and brutal honesty."
-BettyConfidential.com

"A cock-sure celebration of being single, filled with Karo's ultra-male observations from being happily alone and tons of tips on how to stay unhitched."
-Punchline

Karo discusses the perks of being single when everyone else you know is getting hitched. Whether your friends are getting married or just act like it with their long distance boyfriend of 4 years, you will relate, laugh, and maybe even pee a little."
-CollegeCandy.com

"Aaron Karo never apologizes for being single; in fact, he encourages it."
-AskMen.com

"An ode to the beer-drinking, chick-banging perennial bachelor."
-TheFrisky.com

"A tribute to single guys in their late 20s and early 30s who can't stomach the idea of being in a serious relationship, and who ponder their next walk of shame more than a walk down the aisle."
-A.M. New York

"Karo's third book details his philosophies, stories, and tips as a 30-year-old single guy still heading to bars and picking up women (or "kicking game") as his contemporaries settle down."
-BroBible.com

"A celebration of singlehood through anecdotes, observations and a few tips along the way."
-LAist.com

"All about how great it is to be single and unattached."
-Comedy Central Insider