Girls to the Front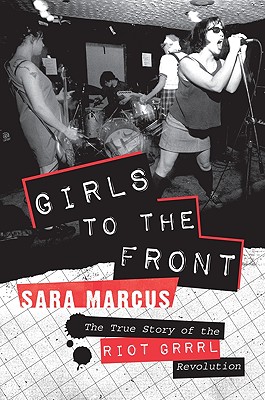 Girls to the Front
The True Story of the Riot Grrrl Revolution
Harper Perennial, Paperback, 9780061806360, 367pp.
Publication Date: September 28, 2010
* Individual store prices may vary.
Buy at Local Store
Enter your zip code below to purchase from an indie close to you.
or
Buy Here
Description
Girls to the Front is the epic, definitive history of Riot Grrrl the radical feminist uprising that exploded into the public eye in the 1990s and included incendiary punk bands Bikini Kill, Bratmobile, Heavens to Betsy, and Huggy Bear. A dynamic chronicle not just a movement but an era, this is the story of a group of pissed off girls with no patience for sexism and no intention of keeping quiet.
About the Author
Sara Marcus is a write and musician living in Brooklyn, New York. Her prose and poetry have appeared in publications including Slate, Time Out New York, The Advocate, The Philadelphia Inquirer, and Heeb, where she was the politics editor for five years. Marcus received an MFA from Columbia University.
Praise For Girls to the Front…
"For a Second Wave feminist like myself, Girls to the Front evokes wonderfully the way the generation after mine soaked up the promise and the punishment of feminist consciousness: all in all, a richly moving story."
-Vivian Gornick

"Compelling. . . . A brash, gutsy chronicle of the empowering music and feminist movement of the early 1990s. . . . Marcus enthusiastically tracks the 'scattered cartographies of rebellion' and captures the combustible excitement of this significant if short-lived moment."
-Publishers Weekly

"Marcus has done a commendable job of telling the little-known history of an important social and cultural movement. . . . A compelling history."
-Booklist (starred review)

"Original, witty, idealistic and down-to-earth, Girls to the Front is a chronicle of women, girls, music, sexism—and, best of all, what it means to be alive. Reader take heart: Feminism is not dead."
-Brenda Wineapple, author of White Heat

"Sara Marcus's Girls to the Front is a great & true & real history. Thank God. At last."
-Eileen Myles, author of Chelsea Girls and Inferno (A Poet's Novel)

"Feminism seems to change every five years. It's hard to grasp the movement. . . . Girls to the Front is not just a keeper of the flame but brings you to yr own fire."
-Kim Gordon

"Stirring. . . . Eloquent. . . . Like Legs McNeil and Gillian McCain did in Please Kill Me. . . Sara Marcus's Girls to the Front tells the story of riot grrrl, one person at a time."
-Bitch Magazine

"Ambitious and convincing. . . . Girls to the Front makes narrative sense out of events that had so far been recorded only in mythic, unverified, and fragmentary form."
-Johanna Fateman, Bookforum

"A historical rockument of the revolutionary 90s counterculture Riot Grrrl movement. . . . A rousing inspiration for a new generation of empowered rebel girls to strap on guitars and stick it to The Man."
-Vanity Fair

"Girls to the Front is more than just a historical account of the riot grrrl movement. It is a reliving. For those who missed the happenings of that era, this book will make you feel as though you were right there."
-Venus Zine

"One hell of an empowering read. . . . A scorching history of the Riot Grrrl movement. . . . There's inspiration here. Read this book and feel it—a renewed energy, in talking about the roles women play in the scenes that we live in today."
-HTMLGIANT

"A painstakingly researched and well thought-out tribute to a punk feminist era Sara Marcus clearly holds dear. . . . It should be heralded as an uncannily insightful revelation of the motivations and inner-workings of Riot Grrrl."
-Allison Wolfe, New York Press

"Exhilarating. . . . Girls to the Front is the well-documented history Riot Grrrl deserves. . . . Marcus writes with the empathy, grace, and balance of a good war correspondent. . . . Her book will undoubtedly prompt a whole new generation of teenage girls."
-The Los Angeles Times

"A fascinaqting social history. . . . In her impassioned study, Marcus focuses on the girls in the crowd as much as stars like Bikini Kill, placing the story in the context of liberalism's post-Reagan crisis and mapping a civilization of Xeroxed jeremiads."
-Rolling Stone