The Good Karma Divorce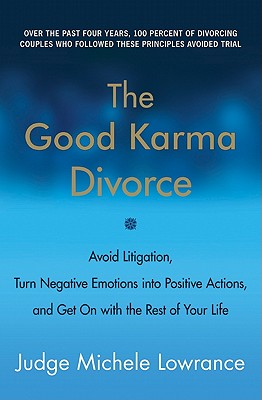 The Good Karma Divorce
Avoid Litigation, Turn Negative Emotions Into Positive Actions, and Get on with the Rest of Your Life
HarperOne, Paperback, 9780061840715, 243pp.
Publication Date: January 4, 2011
* Individual store prices may vary.
Buy at Local Store
Enter your zip code below to purchase from an indie close to you.
or
Buy Here
Description
Your Insurance Policy Against The Kind of Divorce Everybody Fears
Divorce does not need to become the defining moment of the rest of your life. Using her insight and expertise as a family-court judge and former divorce attorney, Judge Lowrance presents a revolutionary guide for people facing the turmoil of divorce. The Good Karma Divorce offers concrete and battle-tested advice, real-life examples, no-nonsense tools, and practical checklists. With Judge Lowrance's guidance we can avoid the black hole of litigation and create a good karma divorce, opening up a new world of hope and possibility.
About the Author
Michele F. Lowrance has been a domestic-relations judge in the Circuit Court of Illinois since 1995. A child of divorce who was raised by her grandparents, Judge Lowrance has been divorced and has devoted her professional life to helping those similarly situated.
Praise For The Good Karma Divorce…
"In the Good Karma Divorce, Judge Lowrance suggests an inspired and uplifting alternative to the agonizing divorce process. In a practical and helpful style she sets out a radically new way to approach divorce."
-Karen Mathis, past President, American Bar Association

"It took me nearly 10 years to recover from my divorce. I am certain that my healing would have been infinitely quicker and less painful if I had had the resources in this book. If you want your divorce to be as healing and transformational as possible, read this book."
-Christiane Northrup M.D., author of The Wisdom of Menopause

"Out of her deep well of experience, Michele Lowrance offers a compassionate overview. She brings hope and clarity to an arena most often characterized by despair and resentment. Her advice is healing and revolutionary. She is clear headed and open hearted."
-Julia Cameron, bestselling author of The Artist's Way

"Michele has culled a treasure trove of loving practical wisdom from her years of experience... She shows us how we can tame and hopefully master the hate, blame, and despair of our personal cataclysm and lead us to a more fulfilling life on the other side."
-John Ratey MD, Clinical Associate Professor of Psychiatry Harvard Medical School, co-author, Driven to Distraction and author, Spark: The Revolutionary New Science of Exercise and the Brain.

"Judge Michele skillfully offers a new formula for healing the heart, mind, and body in the depths of adversity."
-Deepak Chopra, author, The Ultimate Happiness Prescription: Seven Keys to Joy & Enlightenment.

"If you love your children, read The Good Karma Divorce."
-Warren Farrell, Ph.D., Author, Women Can't Hear What Men Don't Say, and Father and Child Reunion

"The book...takes on the process of marriage dissolution assmoothly and deftly as Michele does in her courtroom."
-Today's Chicago Woman

"It is relevant not only to currently divorcing parties, but to anyone who has been touched by divorce."
-Chicago Lawyer Magazine

"Over the past four years, 100 percent of divorcing couples who followed the principles Lowrance lays out in the book have avoided trial, and we can see why."
-Elevated Existence