The Bedwetter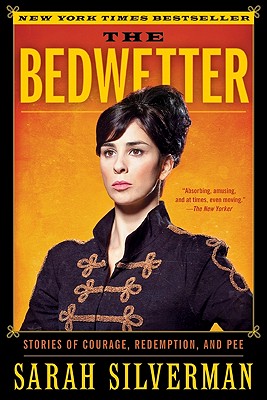 The Bedwetter
Stories of Courage, Redemption, and Pee
It Books, Paperback, 9780061856457, 240pp.
Publication Date: April 1, 2011
* Individual store prices may vary.
Buy at Local Store
Enter your zip code below to purchase from an indie close to you.
or
Buy Here
Description
From the outrageously filthy and oddly innocent comedienne and star of the powerful 2015 film I Smile Back Sarah Silverman comes a memoir her first book that is at once shockingly personal, surprisingly poignant, and still pee-in-your-pants funny. If you like Sarah's television show The Sarah Silverman Program, or memoirs such as Chelsea Handler's Are You There Vodka? It's Me Chelsea and Artie Lange's Too Fat to Fish, you ll love The Bedwetter.
Praise For The Bedwetter…
"Hilarious memoir...Silverman never shies away from poking fun at her own expense. Though she's best known for sexually explicit jokes, Silverman is able to address more serious subjects in the book without losing her edge, particularly her teenage struggle with depression."
-Publishers Weekly (starred review)

"Deftly mixes the spit-take funny stuff with an unsentimental but enlightened look back at her not-so-charmed life and career."
-Vanity Fair

"Readers...get a fully realized portrait of Silverman: tales from a youth spent moistening mattresses and fighting depression in New Hampshire; her salad days as a struggling comedienne in New York; and the various trials that have come with being the filthiest, funniest woman on television."
-Elle

"In this book, as onstage, she has the power to shock—not so easy in these times. Lenny Bruce and Richard Pryor crossed lines; now that the controversy has faded, we remember their genius. And so we will with Sarah Silverman."
-People

"An engrossing (and grossing) journey from childhood to childish adulthood.... Silverman's standup, normally marked by a detached persona and thick outer layer of snark and irony, is off-putting for some, but here she hits previously unseen levels of honesty and sincerity while still retaining her expected level of filth."
-Heeb Magazine

"Odd, shambling, and funny... as close to an explanation of Silverman and her comedy as we're likely to get. It seems to be saying, Obviously I'm joking, but it's also me up there."
-New York magazine

"Without curtailing her trademark potty-mouth humor and shock tactics, comedian Sarah Silverman has written a memoir that's sweet, funny, real and, dare I say it, occasionally even touching… Silverman's book suggests that, behind the cute face and dirty mouth, there's a clever woman with a warm heart."
-Milwaukee Journal Sentinel

"It's irreverent, funny and sometimes winningly serious…. Though Silverman's book provides her customary shock-and-awe humor ... it is Silverman's honesty and vulnerability that are most surprising."
-Los Angeles Times

"Often hilarious and occasionally revelatory.… More than just a collection of gags and stand-up leftovers, 'The Bedwetter' is a mostly cohesive narrative of how a rebellious comic perspective evolved and became inseparable from the person who employs it, and how anyone who could find offense in that is really the butt of the joke."
-New York Times