Phantom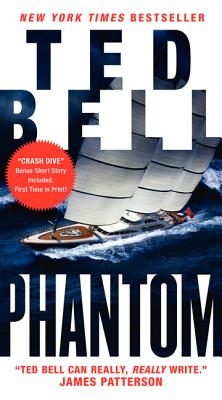 Phantom
A New Alex Hawke Novel
Harper, Mass Market Paperbound, 9780061859328, 672pp.
Publication Date: August 2012
* Individual store prices may vary.
Buy Now
or
Shop Local
Enter your zip code below to purchase from an indie close to you.
Description
Visitors at an American theme park look on in horror as their carefree holiday is transformed in an instant into near chaos. In the skies over the Midwest, the pilot of a USAF F-15 inexplicably loses control of his jet, endangering the very important lives in an accompanying aircraft. Suddenly, for no apparent reason, technology is in open revolt.
For counterspy Alex Hawke and his MI6 colleague, the brilliant former inspector Ambrose Congreve, the mission is clear: to get to the root of a terrifying series of unexplained "malfunctions." But how do you fight a phantom an enemy you cannot see? Cyber-warfare has been declared, and the hunt is leading Hawke on a breakneck race across the globe on the trail of a villainous megalomaniac who may have created the perfect weapon: a devastating Artificial Intelligence nightmare that could shift the geopolitical balance of power for all time.
About the Author
Ted Bell is the former chairman of the board and worldwide creative director of Young & Rubicam, one of the world's largest advertising agencies. He is the New York Times bestselling author of Hawke, Assassin, Pirate, Spy, and Tsar. He is also the author of a series of young adult adventure novels Nick of Time and The Time Pirate. He lives in Florida and Colorado.
Praise For Phantom…
"Phantom is a book you may not want to put down. . . . Hawke is the protagonist of this novel, and he is as cool a customer as this reviewer has run across for some time.
-Newbern Sun Journal on Phantom

"A thoroughly enjoyable spy novel . . . warm weather makes one want to dive into the summer beachside books and Ted Bell's Phantom is a great start."
-Iron Mountain Daily News on Phantom

"This is a scary book . . . Bell never lets up on the action in this very well written tale. . . . I had to pause to take a breath before seeing what came next."
-Suspense Magazine on Phantom

"A terrific nonstop action tale . . . Gripping from the vivid Disney World disaster until the final confrontation with a brilliant Phantom."
-The Mystery Gazette on Phantom

"There's new dimension to Alexander Hawke, the James Bond-like MI6 operative whom men want to be and women want to bed. . . . Bell keeps the tone light and the level of derring-do high. Fine escapist fare."
-Library Journal on Phantom

"[Phantom] keeps the reader involved with its charmingly unflappable hero . . . as well as the ease with which it unfolds on multiple continents, on land and in air."
-Kirkus Reviews on Phantom

"[Hawke's] most personal mission yet. . . . the story is tense and exciting. A perfect read for Clive Cussler fans."
-Booklist on Phantom

"Exciting . . . A terrific, final naval battle shows Alex at his fighting finest."
-Publishers Weekly on Phantom

"Hawke is . . . strong, shrewd and savvy, with an aplomb not seen since James Bond. In other words, Bond, eat your heart out . . . there's a new spy in town.
-NPR on Warlord

"As enlightening as it is scary. . . . Ted Bell packs so many action-amped scenarios into Alex Hawke's seventh adventure, it's so often hard to catch one's breath. If you crave spy thrills with a Bond on steroids, visit the bloody British world of Ted Bell's Alex Hawke."
-Rankin Ledger on Phantom