Three Delays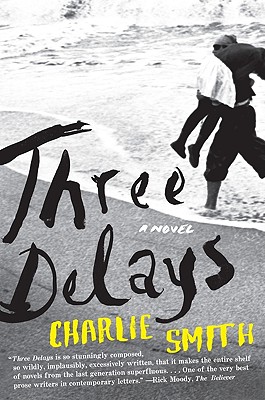 Three Delays
Harper Perennial, Paperback, 9780061859458, 352pp.
Publication Date: May 2010
* Individual store prices may vary.
Shop Local
Enter your zip code below to find indies closest to you.
Description
Billy Brent and Alice Stephens are star-crossed like all great lovers. Their need for each other drives them from Istanbul to Miami, Venice to Mexico. After years of encounters and escapes, they lose themselves deep in a desert wilderness, searching for a way forward, only to learn that sometimes the trail simply forks.
From Charlie Smith, author of three New York Times Notable Books, comes his long-awaited new novel, his first in more than a decade. An exploration of the true particulars of obsession, Three Delays is a book of the spirit, of how broken people love and persist from darkness to darkness.
About the Author
Charlie Smith, the author of seven novels and seven books of poetry, has won the Aga Khan Prize, a Guggenheim Fellowship, and a grant from the National Endowment for the Arts. His writing has appeared in The New Yorker, the Paris Review, Harper's, the New Republic, the New York Times, the Nation, and many other magazines and journals. Three of his novels have been named New York Times Notable Books. He lives in New York City and Key West.
Praise For Three Delays…
"Hallucinatory … a cataract of gorgeous sentences, a paean to a lurid, lavish, buzzing and heart-pulping world. … And its absolute apartness - in its gasping energy, in the ravishing excess of Charlie Smith's prose - is something to be celebrated."
-New York Times Book Review

"The book soars and scuffles according to the logic of its language rather than plot; it's a quietly masterful work by Charlie Smith, an award-winning poet and novelist."
-Los Angeles Times

"Three Delays is so stunningly composed, so wildly, implausibly, excessively written, that it makes the entire shelf of novels from the last generation superfluous....one of the very best prose writers in contemporary letters."
-Rick Moody, The Believer

"Ecstatic and extravagant….Not since poor F. Scott Fitzgerald drew his indelible portraits of the even more troubled Zelda has American fiction been blessed - or maybe cursed - by lovers who are simultaneously so right and so wrong for each other….a reading pleasure as heady as they come."
-Seattle Times

"In his sixth novel, his startling, rhapsodic descriptions are mind-blowing, as are his feral, weirdly smart, self-destructive characters, their lashing dialogue, and their insane, heartbreaking predicaments. This isn't Smith's first tale of toxic and nihilistic obsession, but it is his most ravishing, painfully funny, and wildly mythic."
-Donna Seaman, Booklist, starred review

"Like Under the Volcano, fueled by every drug in the world instead of mezcal, Charlie Smith's first novel in fourteen years tracks a pair of twisted lovers across hot and sweaty locales."
-Daily Candy, Summer Reading List