Secrets of the Short Game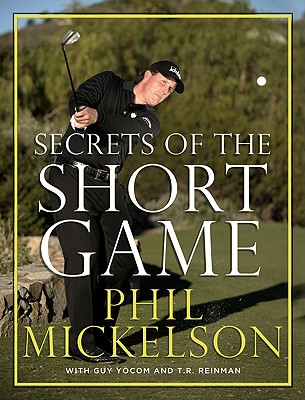 Secrets of the Short Game
HarperTorch, Hardcover, 9780061860928, 209pp.
Publication Date: October 2009
* Individual store prices may vary.
Shop Local
Enter your zip code below to find indies closest to you.
Description
From 50 yards and in, no golfer in history has demonstrated more talent, flair, creativity and precision, or generated more raw excitement, than Phil Mickelson. His ability with the sand wedge and putter are legendary not only among fans but his peers as well, and it is his skill with those clubs that is primarily responsible for his winning 34 tournaments on the PGA Tour, including three major championships. In his first-ever instruction book, Mickelson explains in detail how to master every phase of the short game.
Mickelson maintains that any golfer of average ability can become a deadly short-game player by approaching the subject with a blend of science (proper mechanics and setup) and art (imagination and feel). Mickelson does a fine job explaining both; combining the wisdom of his great teachers with his own fertile imagination, cultivated from 34 years of experimentation, trial and error.
No golfer can afford to miss out on Mickelson′s secrets and tips.
About the Author
Phil Mickelson followed an outstanding amateur career with a brilliant assault on the PGA Tour, compiling 36 PGA Tour victories by 2009 (second among active players), including three major championships: the Masters Tournament in 2004 and 2006 and the PGA Championship in 2005. He has played on seven U.S. Ryder Cup teams and seven U.S. Presidents Cup teams. Mickelson is in the prime of his career, and his short game is without peer in golf today.

JACKIE BURKE, JR., was inducted into the World Golf Hall of Fame in 1999, and in 2004 he received the Bob Jones Award from the U.S. Golf Association for distinguished sportsmanship, American golfs highest award. His playing record includes seventeen PGA Tour victories, including the 1956 Masters and PGA Championship. He played on five Ryder Cup teams in the 1950s, serving as player-captain in 1957 and solo captain in 1973.
GUY YOCOM is an awardwinning senior writer for "Golf Digest" and the coauthor of Tiger Woodss "How I Play Golf" and Johnny Millers "I Call the Shots,"


Praise For Secrets of the Short Game…
"I've seen all the great players over the last 50 years, and none has had more feel, creativity or imagination in the short game than Phil Mickelson. He does a fantastic job conveying his secrets in this book."
-Butch Harmon

"There's always been a lot of 'wow' with Phil's short game, but what continues to impress me is the soundness of his technique. Get ready for some excitement, because with this book your play on and around the greens is about to get a whole lot better."
-Gary McCord

I've always been a great fan of Phil and his golf game, especially his play from 50 yards and in. His skills and creativity are simply unmatched. I know you will find this book helpful, both at sharpening your technique and improving your imagination
-Ben Crenshaw