Seeds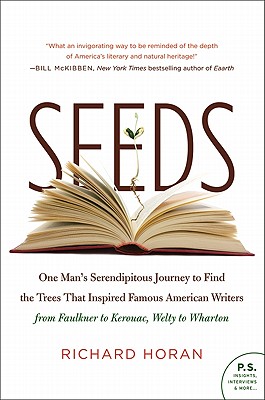 Seeds
One Man's Serendipitous Journey to Find the Trees That Inspired Famous American Writers from Faulkner to Kerouac, Welt
Harper Perennial, Paperback, 9780061861680, 347pp.
Publication Date: April 19, 2011
* Individual store prices may vary.
Buy at Local Store
Enter your zip code below to purchase from an indie close to you.
or
Buy Here
Description
"Seeds reads like the best of a roundtable discussion amongst John Muir, Bill Bryson, and David Sedaris. From the fields of Gettysburg to the home of Kerouac, Horan takes an unlikely premise and weaves it into a story that's poignant, insightful and unexpectedly humorous. This is more than a book about seeds--it's about literary heroes, forensic forestry, and self-discovery." --Spike Carlsen, author of A Splintered History of Wood
The Orchid Thief meets Botany of Desire meets Driving Einstein's Brain in Richard Horan's Seeds, the chronicle of one man's quest to understand the influence and impact of trees in American life and literature--and his mission to collect seeds from the homes of Kerouac, Welty, Wharton, Kesey and twenty other authors, to preserve the literary legacy of American forests for generations to come.
Praise For Seeds…
"What an invigorating way to be reminded of the depth of America's literary and natural heritage!"
-Bill McKibben, author of Eaarth: Making a Life on a Tough New Planet

"Horan goes to find the trees, and we have the good luck to accompany him. The pleasures of travel, literature, and history are all richly present in this rare and engaging book. Horan comes to us as a friend, not a teacher, and wins our hearts."
-William Bryan Logan, author of Oak: The Frame of Civilization

"Seeds is more than a book: this sashay across literary America plants a literal sacred grove. Horan sees the cloud floating inside every work of literature. He helps redeem every tree that ever died for our solace and delight."
-David James Duncan, author of The Brothers K and The River Why

"Seeds reads like a talk between John Muir and Bill Bryson. Horan takes an unlikely premise and takes a journey that's poignant, insightful and unexpectedly humorous. More than a book about seeds—it's about literary heroes, forensic forestry and self-discovery."
-Spike Carlsen, author of A Splintered History of Wood

"In Seeds, Horan pays homage to famous American writers and the trees of their youth. Horan is a terrific writer, and very funny at times!"
-Amy Goldman, naturalist and author of 3 books on heirloom seeds

"Once in a decade a book as good as Seeds appears to astonish and delight us. Some of his tales are full of interesting lore, others are touching, more than a few are funny as hell."
-Thomas Powers