The Wild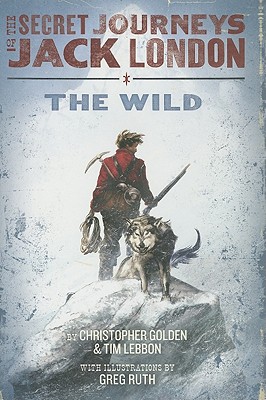 The Wild
HarperTorch, Hardcover, 9780061863172, 348pp.
Publication Date: March 2011
* Individual store prices may vary.
Buy Now
or
Shop Local
Enter your zip code below to purchase from an indie close to you.
Description
The world knows Jack London as awriter who lived his own thrilling, real-life adventures. But there areparts of his life that have remainedhidden for many years, things even he couldn tset down in writing. Terrifying, mysterious, bizarre, and magical these are the SecretJourneys of Jack London.
We meet Jack at age seventeen, followingthousands of men and women into the YukonTerritory in search of gold. For Jack, the journeyholds the promise of another kind of fortune: challenge and adventure. But what he finds inthe wild north is something far more sinisterthan he could have ever imagined: kidnappingand slavery, the murderous nature of desperatemen, and, amidst it all, supernatural beasts ofthe wilderness that prey upon the weakness inmen's hearts. Jack's survival will depend on hisability to quell the demons within himself asmuch as those without.
Acclaimed authors Christopher Goldenand Tim Lebbon, along with illustrator GregRuth, have crafted a masterful tale bothclassic and contemporary, a gripping originalstory of the paranormal in the tradition ofthe great Jack London.
About the Author
Christopher Golden is the New York Times bestselling author of Of Saints and Shadows, The Myth Hunters, The Boys Are Back in Town, and Snowblind. He has edited the anthologies The New Dead, The Monster's Corner, and 21st Century Dead.

TIM LEBBON is a New York Times-bestselling writer from South Wales. He s had twenty novels published to date, including The Island, The Map of Moments (with Christopher Golden), Bar None, Fallen, Hellboy: The Fire Wolves, Dusk, and Berserk, as well as scores of novellas and short stories. He has won four British Fantasy Awards, a Bram Stoker Award, and a Scribe Award, and has been a finalist for the International Horror Guild and World Fantasy Awards. In 2011, his book Thief of Broken Toys (ChiZine Publications) was nominated for the World Fantasy Award in the novella category. He has also been a judge for the World Fantasy Award. In 2004, Fangoria named him one of the thirteen rising talents who promise to keep us terrified for the next twenty-five years. Only nineteen years left to go . . . better get busy. Forthcoming books include The Secret Journeys of Jack London for HarperCollins (coauthored with Christopher Golden), Echo City for Bantam in the US and Orbit in the UK, Coldbrook for Corsair in the UK, 30 Days of Night: Fear of the Dark for Pocket Books, the massive short story collections Last Exit for the Lost from Cemetery Dance and Ghosts and Bleeding Things from PS Publishing, as well as several other projects not yet announced. He has written several screenplays, and is currently developing two TV series with a British TV company. Several of his novels and novellas are currently in development for screen in the USA and UK, and he is working on new novels and screenplays.Find out more about Tim at his website: www.timlebbon.net.

Greg Ruth (Illustrator) has created countless comic books for Dark Horse and other publishers, and has worked on videos for Prince and Rob Thomas, among others. He has also illustrated many children s books as well as graphic novels. He lives with his family in Massachusetts.
Praise For The Wild…
"A masterful mix of gold, cold, supernatural creatures, and dread magic makes this a great action adventure story."
-Garth Nix, author of the Abhorsen Trilogy

"A great old-school adventure novel and the best use of the Wendigo legend I've ever read."
-Mike Mignola, creator of Hellboy

A rollicking adventure tale for modern-day readers, depicting with great awe the unforgiving, and yet beautiful, conditions Jack confronts. There is enough biographical reality to drive curious readers into sampling the works of the actual London while they eagerly await another chapter. That is a fire worth starting.
-Voice of Youth Advocates (VOYA) (Starred Review)

Golden and Lebbon write with a gritty assurance that brings the fantasy elements-most notably, Jack's multiple face-offs with the mythic Wendigo-down to earth. This first chapter kicks the door open for almost anything in book two.
-ALA Booklist