Kapitoil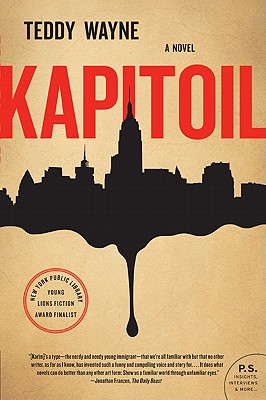 Kapitoil
Harper Perennial, Paperback, 9780061873218, 295pp.
Publication Date: April 13, 2010
* Individual store prices may vary.
Buy at Local Store
Enter your zip code below to purchase from an indie close to you.
or
Buy Here
Description
"Teddy Wayne has written a brilliant book. Karim Issar is one of the freshest, funniest heroes I've come across in a long time."
-- Ben Fountain, bestselling author of Brief Encounters with Che Guevara
"An innovative and incisive meditation on the wages of corporate greed, the fundamental darkness of its vision lit by the author's great comic intelligence and wit."
-- Kathryn Davis, author of The Thin Place, Hell: A Novel, and Versailles
With a fresh and singular voice, Teddy Wayne marks his literary debut with the story of one 26 year old Middle Eastern man's attempt to live the American Dream in New York City. Like the award-winning Netherland and The Reluctant Fundamentalist, Kapitoil provides an absorbing look into American culture and New York finance from an outsider's perspective.
Praise For Kapitoil…
"KAPITOIL is one of those uncommon novels that really is novel. Though the storytelling is conventional, it is satisfyingly so, and the book's estimable young narrator is a human type whom nobody until Wayne was ever inspired to write about."
-Jonathan Franzen, bestselling author of The Corrections

"[A] brilliant book. Karim Issar is one of the freshest, funniest heroes I've come across in a long time... In its honesty, humor, intelligence, and hard-won wisdom, Kapitoil is 'Karim-esque' to the nth degree, and that is a very good way to be."
-Ben Fountain, bestselling author of Brief Encounters with Che Guevara

"What a wonderful character Karim is—the hapless, hilarious, math-obsessed hero of Teddy Wayne's first novel. KAPITOIL is a delight. Who knew oil futures could be such fun?"
-Joshua Henkin, author of SWIMMING ACROSS THE HUDSON and MATRIMONY

"Teddy Wayne's debut novel is an innovative and incisive meditation on the wages of corporate greed, the fundamental darkness of its vision lit by the author's great comic intelligence and wit."
-Kathryn Davis, author of The Thin Place, Hell: A Novel, and Versailles

"This wonderfully assured debut novel, at once poignant, insightful, and funny…is a delight. Best of all, however, is simply being inside Karim's head as he ponders Jackson Pollock's paintings, baseball, programming, and the mysteries of love and life in the U.S. "
-Booklist (starred review)

"[A] strong and heartfelt debut novel… It's a slick first novel that beautifully captures a time that, in retrospect, seems tragically naïve."
-Publishers Weekly (starred review)

"[An] affecting, timely, and frequently hilarious debut novel."
-Vanity Fair

"Brilliant...The beauty of Kapitoil, Wayne's debut novel, is that it tackles broad and serious themes with humor and an eye for detail. Karim's carefully articulated voice is a thing of beauty....Teddy Wayne = a major literary talent."
-Houston Chronicle

"The novel is wise and humble, funny and sweet, so incredibly touching."
-MarieClaire.com

"A book ripe with beauty and potential....Karim Issar is a character readers will remember, and readers had better prepare themselves to remember the name of Teddy Wayne as well. It's one they'll be hearing again and again in the months following Kapitoil's release."
-Bomb Magazine

"Funny, intelligent and poignant...With Wayne's clever prose and simultaneously romantic and skeptical viewpoint, Teddy Wayne is undoubtedly an exciting new voice on the scene—and Kapitoil is a book that is not to be missed."
-BookPage.com

"Wayne has written one of the best novels of my generation.... Why did 9/11 happen, and why do we continue to respond so blindly? Wayne answers these questions better than Mohsin Hamid or Joseph O'Neill, the best authors of this genre until now."
-Boston Globe

"Every once in a while, you encounter a character in a work of fiction who feels like such a real person, such a friend, that once you finish the book, you miss having him around. Karim Issar, the protagonist of Teddy Wayne's captivating debut novel Kapitoil, is such a character."
-Salon.com

"Flat out top-notch. Kapitoil makes you see America and the English language more clearly than ever before, and Karim Issar, the book's protagonist, is one of the most interesting characters we've had a chance to spend time with."
-McSweeneys.net

"[A]t once a thought-provoking meditation on late capitalism, and poignant coming-of-age story."
-Blackbook

"[Karim]'s a type—the nerdy and needy young immigrant—that we're all familiar with but that no other writer, as far as I know, has invented such a funny and compelling voice and story for."
-Jonathan Franzen to TheDailyBeast.com

Named one of the top ten first novels of 2010 by Booklist!"[A] funny and incisive novel of one young man's heady introduction to American culture."
-Booklist

"Kapitoil is set before 9/11, but its depiction of the reckless excess that lies behind our current debacle groups it with Adam Haslett's Union Atlantic and Jonathan Dee's The Privileges...an unusually enjoyable experience."
-The Independent