The Gospel of Anarchy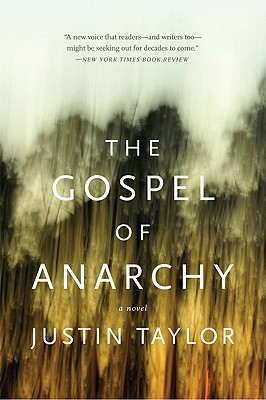 The Gospel of Anarchy
Harper Perennial, Paperback, 9780061881824, 240pp.
Publication Date: February 8, 2011
* Individual store prices may vary.
Buy at Local Store
Enter your zip code below to purchase from an indie close to you.
or
Buy Here
Description
In landlocked Gainesville, Florida, in the hot, fraught summer of 1999, a college dropout named David sleepwalks through his life--a dull haze of office work and Internet porn--until a run-in with a lost friend jolts him from his torpor. He is drawn into the vibrant but grimy world of Fishgut, a rundown house where a loose collective of anarchists, burnouts, and libertines practice utopia outside society and the law. Some even see their lifestyle as a spiritual calling. They watch for the return of a mysterious hobo who will--they hope--transform their punk oasis into the Bethlehem of a zealous, strange new creed.
In his dark and mesmerizing debut novel, Justin Taylor ("a master of the modern snapshot"--Los Angeles Times) explores the borders between religion and politics, faith and fanaticism, desire and need--and what happens when those borders are breached.
Praise For The Gospel of Anarchy…
"A brilliant debut novel you have to read."
-Details

"[A] thoughtful miniaturist with an intuitive knack for the well-chosen detail....Taylor's noble goal is to remind those of us long past our own difficult youths of the grace and beauty to be found even in a 'bunch of drunkpunks in the armpit of Florida.'"
-New York Times Book Review

"If Claire Messud's The Emperor's Children showed upper-class New Yorkers in the not-yet upended world before 9/11, this book does the same for the small-town anarchists, believers and the Burning Man-inclined."
-Los Angeles Times

"Once again, Taylor blends the competing heat of religious fervor, threatening politics, and nihilistic sex, yielding dangerous results."
-Oxford American

"Remember this name: Justin Taylor. You will hear it again. This young man, who was raised in South Florida, is an irrefutably talented writer. He is audacious, intelligently literate and fizzing with potential."
-Miami Herald

"Gospel is a beautifully written, insanely intelligent, and ultimately moving novel....You'll be blown away by this book, re-reading it for years to come. "
-BlackBook

"Taylor is an undeniable talent with a contemporary voice that this new generation of skeptics has long awaited--a young champion of literature."
-New York Press

"For those of us not mired in strange sub-sub-culture squalor, it can be a disconcerting read at times, but its looming questions and cracked worldview are sure to stick around in your consciousness, relentlessly stalking a ground they won't give up anytime soon."
-Nylon Magazine

"Taylor's writing … is exceptionally good. Locally, the sentences are incisive and tumbling. But what's even more powerful is the way those sentences accumulate into larger ideas."
-BookForum

"These days, all the cool kids write about pharmaceuticals and cognitive science. In his first novel, The Gospel of Anarchy, Justin Taylor makes his attempt to diagnose the mal du siècle by grappling with matters of faith."
-New York Observer

"As in his story collection, Everything Here Is the Best Thing Ever, Taylor has a natural sense for what makes intelligent young people tick and, occasionally, drop out."
-Time Out Chicago

"Taylor interweaves youthful dialogue with religious rhetoric, exploring what would happen if everyone did what was good for everyone, and the corporate world burned to the ground."
-Interview

"Provocative…Writing from various perspectives in a wholly captivating style, Taylor traces the delicate lines between freedom, spirituality, politics, and happiness, depicting a lifestyle both hopeful and flawed."
-Booklist

"Justin Taylor exposes the fine line between making life choices and living a deluded reality, deftly illustrating how taking things too far or too literally can distort their true meaning and intent."
-New York Journal of Books

"Taylor, a Brooklyn-based author raised in Florida, writes dreamy recollections of swampy youth"
-Village Voice

"A cult emerges from a punk/hippie sanctuary in this mordant first novel….Taylor writes sex wonderfully well….[His] nimble analysis of these schisms recalls T.C. Boyle's Drop City…"
-Kirkus Reviews

"The Gospel of Anarchy is a beautiful, searching and sometimes brutally funny novel. Justin Taylor writes with fierce precision and perfect balance: the acts and pronouncements of his freegan utopianists may seem hilarious and deranged at times, but Taylor treats their yearning with the seriousness it deserves."
-Sam Lipsyte, author of The Ask

"A feverish, fearless writer, Justin Taylor delivers 'blessed pleasure' in translating the 'baffling Christ babble' in The Gospel of Anarchy, a novel whose shiftless characters, in search of completion and contentment, must wrestle with that prerequisite of faith: a willingness to believe in the unseen."
-Christine Schutt, author of All Souls, finalist for the 2009 Pulitzer Prize

"I've always thought that there was some really interesting narrative terrain in that weird intersection between freeganism and fundamentalism, and I'm glad to see Taylor got there before some schmuck wrecked it."
-Matthew Derby, author of Super Flat Times

"A new voice that readers--and writers too--might be seeking out for decades to come."
-New York Times Book Review