Putting Away Childish Things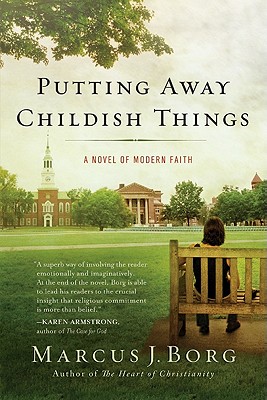 Putting Away Childish Things
A Novel of Modern Faith
HarperOne, Paperback, 9780061888168, 357pp.
Publication Date: May 3, 2011
* Individual store prices may vary.
Buy at Local Store
Enter your zip code below to purchase from an indie close to you.
or
Buy Here
Description
We all know that Marcus Borg is a gifted teacher, biblical scholar, and writer of nonfiction, but it turns out that he's a master storyteller, too. Brian D. McLaren, author of A New Kind of Christianity
Bestselling author, Bible scholar, and theologian Marcus Borg (Meeting Jesus Again for the First Time, The Heart of Christianity, The Last Week) uses his core teachings on faith and the Bible to demonstrate their transformative power and potential in Putting Away Childish Things the moving, inspirational story of a college professor, her students, and a crisis of faith.
Praise For Putting Away Childish Things…
"In Putting Away Childish Things, Borg has chosen fiction as the best vehicle for exploringChristianity, important questions of career and vocation, and thorny issues within the churchsuch as fundamentalism and homosexuality. This imaginative excursion is handled with aplomb…A thought-provoking novel."
-Spirituality & Practice

"Borg offers up a didactic novel that explores some of the thorniest theological issues facing the Christian community. ... he is to be commended for taking up a new form of literature to share his theological perspective—a perspective that many have found to be generous, open and hopeful."
-Christian Century

"Professor Borg spins a fine yarn and teaches much in the process, yielding a whole cloth of integrated and inquiring Christianity. Let's hope there is a second tapestry to come!"
-The Most Rev. Katharine Jefferts Schori, Presiding Bishop and Primate of The Episcopal Church

"Putting Away Childish Things is a page-turning tale grappling with issues of faith confronting today's church. An inspiring and compelling story that will be treasured and revisited, Borg's illuminating insights and all-too-human characters make theology accessible to all."
-Julia Spencer-Fleming, award-winning author of One Was A Soldier

"The form is different with Marcus Borg's insightful new novel, but the reader's experience and payoff are the same as with his many excellent non-fiction books: this is a great read that leads to a deeper, more hopeful understanding of the meaning and possibilities of Christian faith today."
-Tom Krattenmaker, USA Today Board of Contributors, author of Onward Christian Athletes

"Borg takes advantage of [main character] Kate's syllabus to teach readers what she teaches her students… The reader audits Prof. Riley's class and, thereby, drinks from Marcus Borg's font of knowledge about the Enlightenment, theology and religion…. [Borg] writes plainly, warmly, and with truth."
-Beatitudes Review

"In the end, it's the kind of novel where you underline teaching points that have been madeespecially well and dog-ear the pages in which the author has included poetry that speaks to urgent human questions."
-Beliefnet

"Can a world renowned biblical scholar really write an entertaining work of fiction? The answer is absolutely YES! I was hooked by the end of the first chapter."
-Progression of Faith

"The story provokes ample opportunity for dialog on a personal and a group level. A wonderful novel.... You look forward to returning to digest more of this splendidly crafted tale.... Powerful, memorable and one that you can confidently recommend to others….as I now recommend it to you."
-Bill Dahl

"I see this novel as an ingenious way to open up dialogue between Christians of differing points of view, and as a window into Borg's understanding of what it means to be truly Christian in a world that has become rather inhospitable to Christianity and its claims."
-Presbymergent-Musings

"Borg writes fiction with passion. While the book raises many questions about faith, religion, and relationships, it also functions by itself as [a] truly moving story. I highly recommend this book for skeptics and people of faith alike."
-Treehouse Monastic

"I thoroughly enjoyed the book and wholeheartedly recommend it…. Many a book group will enjoy discussing Putting Away Childish Things, and many a questioning Christian's faith will be sustained by the story."
-A Wee Blether