Who's in Charge?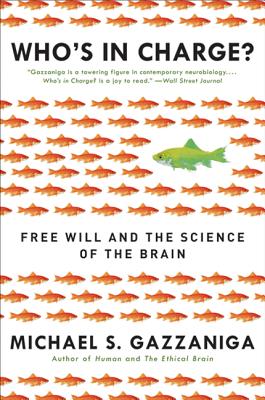 Who's in Charge?
Free Will and the Science of the Brain
Ecco Press, Paperback, 9780061906114, 260pp.
Publication Date: September 11, 2012
* Individual store prices may vary.
Buy at Local Store
Enter your zip code below to purchase from an indie close to you.
or
Buy Here
Description
"Big questions are Gazzaniga's stock in trade."
--New York Times
"Gazzaniga is one of the most brilliant experimental neuroscientists in the world."
--Tom Wolfe
"Gazzaniga stands as a giant among neuroscientists, for both the quality of his research and his ability to communicate it to a general public with infectious enthusiasm."
--Robert Bazell, Chief Science Correspondent, NBC News
The author of Human, Michael S. Gazzaniga has been called the "father of cognitive neuroscience." In his remarkable book, Who's in Charge?, he makes a powerful and provocative argument that counters the common wisdom that our lives are wholly determined by physical processes we cannot control. His well-reasoned case against the idea that we live in a "determined" world is fascinating and liberating, solidifying his place among the likes of Oliver Sacks, Antonio Damasio, V.S. Ramachandran, and other bestselling science authors exploring the mysteries of the human brain.

Praise For Who's in Charge?…
"Gazzaniga is a towering figure in contemporary neurobiology. . . . Who's in Charge? is a joy to read."
-Wall Street Journal

"A fascinating, accessible, and often humorous read for anyone with a brain! And a must-read for neuroscientists, psychologists, psychiatrists, and criminal attorneys."
-Library Journal (starred review)

"Fascinating. . . . Gazzaniga uses a lifetime of experience in neuroscientific research to argue that free will is alive and well."
-Salon.com

"Terrific. . . . [An] engrossing study of the mechanics of thought."
-Publishers Weekly

"A fascinating affirmation of our essential humanity."
-Kirkus Reviews

"From one of the world's leading thinkers comes a thought-provoking book on how we think and how we act. . . . An exciting, stimulating, and at times even funny read that helps us further understand ourselves, our actions, and our world."
-CNBC.com, Best Books for the Holidays

"An utterly captivating and fascinating read that addresses issues of consciousness and free will and, in the end, offers suggestions as to how these ideas may or may not inform legal matters."
-Daily Texan

"[The] scope of Michael S. Gazzaniga's Who's in Charge? is huge—it tackles the age-old debate of free will [and] offers a lot to consider about what Gazzaniga deems the 'scientific problem of the century.'"
-Portland Mercury

"Fascinating. . . . [An] intriguing and persuasive treatment of the moral implications of modern neuroscience."
-Reason.com

"This exciting, stimulating, and sometimes even funny book challenges us to think in new ways about that most mysterious part of us—the part that makes us think we're us."
-Alan Alda, actor and host of Scientific American Frontiers