I Can't Make You Love Me, But I Can Make You Leave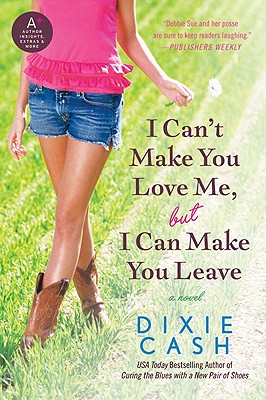 I Can't Make You Love Me, But I Can Make You Leave
William Morrow & Company, Paperback, 9780061910142, 311pp.
Publication Date: April 2011
* Individual store prices may vary.
Buy Now
or
Shop Local
Enter your zip code below to purchase from an indie close to you.
Description
When someone makes a killing in the country music business, it's time to call in Debbie Sue and Edwinathe Domestic Equalizerswhose motto is, "Don't get mad, get evidence."
The career of former Queen of Country Music, Darla Denman, ain't what it used to be. No more big arenasshe's lucky to fill a barroomand now she's forced to tour (by bus!) with the detestable Roxie Jo, current wife of Darla's manager/ex-husband. So when her rattletrap tour bus gives up the ghost outside tiny Salt Lick, Texas, the faded Nashville star's thrilled to find loyal fans (and sympathetic ears) in Debbie Sue Overstreet and Edwina Perkins-Martin.
But when her nemesis and upstart backup singer Roxie Jo turns up dead in her dressing roomwhich bears an uncanny resemblance to a cleaning-supply closetDarla finds herself in more trouble than a Dixie Chick in merry old England. Luckily Debbie Sue and Edwina are not only the proud owners of Salt Lick's best beauty parlor but they also moonlight as private detectives! And if the Domestic Equalizers can't get to the bottom of a murderous musical mess, then no one can!
About the Author
Dixie Cash is Pam Cumbie and her sister, Jeffery McClanahan. They grew up in rural West Texas among "real life fictional characters" and 100 percent real cowboys and cowgirls. Some were relatives and some weren't. Pam has always had a zany sense of humor and Jeffery has always had a dry wit. Surrounded by country western music, when they can stop laughing long enough, they work together creating hilarity on paper. Both live in Texas Pam in the Fort Worth/Dallas Metroplex and Jeffery in a small town near Fort Worth.