The Financial Lives of the Poets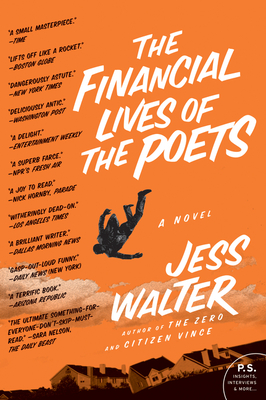 The Financial Lives of the Poets
Harper Perennial, Paperback, 9780061916052, 290pp.
Publication Date: September 1, 2010
* Individual store prices may vary.
Buy at Local Store
Enter your zip code below to purchase from an indie close to you.
or
Buy Here
Description
What happens when small-time reporter Matthew Prior quits his job to gamble everything on a quixotic notion: a Web site devoted to financial journalism in the form of blank verse?
Before long, he wakes up to find himself jobless, hobbled with debt, spying on his wife's online flirtation, and six days away from losing his home. . . . Until, one night on a desperate two a.m. run to 7-Eleven, he falls in with some local stoners, and they end up hatching the biggest and most misbegotten plan yet.
The cover of this paperback edition comes in three different colors: green, blue, and orange.
Praise For The Financial Lives of the Poets…
"A deliciously antic tale of an American dream gone very sour...part noir gumshoe, part average Joe, [Matt Prior] is a sharp, wide-eyed, soulful observer, with a keen eye for the layers of bureaucracy and doublespeak."
-Washington Post

"Would be so sad if it weren't so funny, and so funny if it weren't so sad. . . . Compassionate, witty and drawn from today's heartless world, it's a terrific book."
-Arizona Republic

"An extremely funny novel…a very smart meditation on what's gone wrong with both the US economy and those of us who are expected to keep it running…cleverly designed and immensely entertaining."
-Christian Science Monitor

"The funniest way-we-live-now book of the year."
-Time magazine

"The novel has warmth, and its protagonist emerges as a bourgeois Everyman of the downturn."
-The New Yorker

"[Walter is a] deft humorist and catastrophist. . . . dangerously astute."
-Janet Maslin, New York Times

"Walter is one of my favorite young American writers. . . . [Financial Lives] made me laugh more than any other book published this year."
-Nick Hornby, Parade

"A real find….the ultimate something-for-everyone-don't-skip-must-read."
-Sara Nelson, The Daily Beast

"[A] superb farce."
-Maureen Corrigan, NPR's Fresh Air

"Cynical yet warm, this novel about a financial reporter (with a failing website written entirely in blank verse) is a delight."
-The Must List, Entertainment Weekly

"Walter's The Financial Lives of the Poets is gasp out loud funny. It's also sufficiently true to life that you're grateful it's not your life. Middle-class mayhem is just the best, at least in Walter's hands."
-New York Daily News

"Darkly funny, surprisingly tender . . . witheringly dead-on."
-Los Angeles Times

"Jess Walter is a brilliant writer, one of the freshest new voices in American literature."
-Dallas Morning News

"Matt Prior . . . is an Everyman for our parlous times."
-Seattle Times

"A refreshing reminder that fiction remains a relevant, vital way to understand ourselves."
-The Oregonian (Portland)

"In this cautionary tale of fiscal follies and collapse Walter delivers a comic and gut-wrenching fable for these impecunious times."
-Kansas City Star

"A comic masterpiece… packed [with] life and wry truth."
-Jeffrey Burke, Bloomberg News

"Hilarious and timely…Walter grounds the story with moments of genuine feeling…bitter, funny and accurate…Jess Walter's buoyant voice is a fresh pleasure."
-New West

"America's first Great Recession novel."
-Spokane Spokesman-Review

"National Book Award-finalist Walter does for the nation's bleak financial landscape what he did for 9-11 in The Zero: whip-smart satire with heart."
-Publishers Weekly (starred review)

"When it comes to explaining to me my own too often baffling nation, there's no one writing today whom I trust as completely as Jess Walter. His intelligence and sympathy and great wit inform every page—indeed every sentence—of his terrific new novel, The Financial Lives of the Poets. "
-Richard Russo, author of That Old Cape Magic and Empire Falls

"Jess Walter's smart and big-hearted take on our bleak national moment is a welcome relief. The Financial Lives of the Poets is a rollicking fiction and an affecting family portrait, as well as a mordantly funny cautionary tale."
-Sam Lipsyte, author of Home Land and Venus Drive

"Confirms Jess Walter as a writer of the first rank.…his eye keen for the true values of the human heart. This is a hopped-up, raucous stunner of a novel with a hero who's funny enough to make you weep for what we've lost."
-Whitney Terrell, author of The King of Kings County and The Huntsman

"Jess Walter's The Financial Lives of the Poets is a comic, graceful parable of marriage and money troubles in which a well-meaning family man makes decisions that are seriously stupid—and entertaining and American."
-Sarah Vowell, author of Assassination Vacation and The Wordy Shipmates

"One of the best American writers working today.…It's a testament to this author's genius that I could not stop laughing even as he drives home some necessary truths. Walter has written a profound, and profoundly funny, book; this may well be the classic novel of our post-boom era."
-Ben Fountain, author of Brief Encounters with Che Guevara