Secret Daughter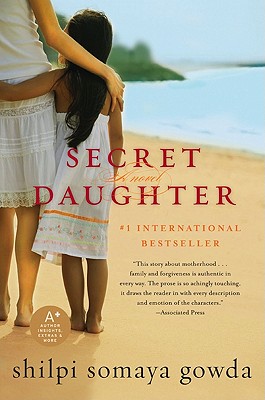 Secret Daughter
William Morrow & Company, Paperback, 9780061928352, 346pp.
Publication Date: April 1, 2011
* Individual store prices may vary.
Buy at Local Store
Enter your zip code below to purchase from an indie close to you.
or
Buy Here
Description
Somer's life is everything sheimagined it would be she snewly married and has startedher career as a physician in SanFrancisco until she makes the devastatingdiscovery she never will beable to have children.
The same year in India, a poormother makes the heartbreakingchoice to save her newborn daughter slife by giving her away. It is adecision that will haunt Kavita forthe rest of her life, and cause aripple effect that travels across theworld and back again.
Asha, adopted out of a Mumbaiorphanage, is the child that bindsthe destinies of these two women. Wefollow both families, invisibly connecteduntil Asha's journey of self-discoveryleads her back to India.
Compulsively readable anddeeply touching, Secret Daughter isa story of the unforeseen ways inwhich our choices and families affectour lives, and the indelible power oflove in all its many forms.
About the Author
SHILPI SOMAYA GOWDA was born and raised in Toronto to parents who migrated there from Mumbai. She holds an MBA from Stanford University and a BA from the University of North Carolina at Chapel Hill. In 1991, she spent a summer as a volunteer in an Indian orphanage. She has lived in New York, North Carolina and Texas, and currently makes her home in California with her husband and children.
Praise For Secret Daughter…
"Gowda has masterfully portrayed two families... linked by a powerful, painful tie that complicates their lives... A thought-provoking examination of the challenges of being a woman in America and in India -- and in the psychological spaces in between."
-Chitra Divakaruni, author of The Palace of Illusions

"Set in California and the teeming city of Mumbai, SECRET DAUGHTER is a beautifully composed compelling story of love, loss, discovery and the true meaning of family."
-Anjali Banerjee, author of Imaginary Men

Fiction with a conscience, as two couples worlds apart are linked by an adopted child....A lightweight fable of family division and reconciliation, gaining intensity and depth from the author's sharp social observations
-Kirkus

First novelist Gowda offers especially vivid descriptions of the contrasts and contradictions of modern India... Rife with themes that lend themselves to discussion, such as cultural identity, adoption, and women's roles, this will appeal to the book club crowd.
-Library Journal

It's moving and thought-provoking and informative and imaginative and beautifully executed. What a wonderful story!
-Mary Jane Clark, author of Dying for Mercy

The Secret Daughter is a deeply moving and timeless story of an adopted daughter's long distance search for cultural identity and acceptance; first with the mother who raised her, and ultimately with the mother who gave her up.
-Kathleen Kent, author of The Heretic's Daughter

In her engaging debut, Gowda weaves together two compelling stories… Gowda writes with compassion and uncanny perception from the points of view of Kavita,Somer, and Asha, while portraying the vibrant traditions, sights, and sounds of modern India.
-Booklist

This wise debut moves deftly between the child's two mothers and cultures.
-Good Housekeeping

A No. 1 bestseller in Canada, "Secret Daughter" tells a nuanced coming-of-age story that is faithful to the economic and emotional realities of two very different cultures.
-Washington Post