Little Princes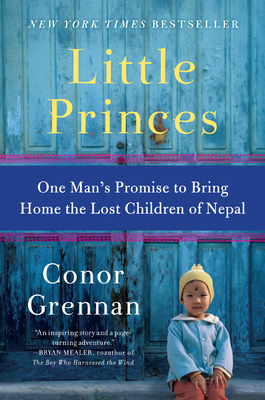 Little Princes
One Man's Promise to Bring Home the Lost Children of Nepal
William Morrow & Company, Paperback, 9780061930065, 320pp.
Publication Date: December 27, 2011
* Individual store prices may vary.
Buy at Local Store
Enter your zip code below to purchase from an indie close to you.
or
Buy Here
Description
An astonishing testament to true courage, the transformative power of love, and the ability of one man to make a real difference.
In search of adventure, twenty-nine-year-old Conor Grennan embarked on a yearlong journey around the globe, beginning with a three-month stint volunteering at an orphanage in civil war torn Nepal. But a shocking truth would forever change his life: these rambunctious, resilient children were not orphans at all but had been taken from their families by child traffickers who falsely promised to keep them safe from war before abandoning them in the teeming chaos of Kathmandu. For Conor, what started as a footloose ramble became a dangerous, dedicated mission to unite youngsters he had grown to love with the parents they had been stolen from a breathtaking adventure, as Conor risked everything in the treacherous Nepalese mountainsto bring the children home.
Praise For Little Princes…
In the tradition of "Three Cups of Tea" and "Mountains Beyond Mountains," this book provides proof (there cannot be too much) of the value of volunteer work.
-Los Angeles Times

"With a light touch and refreshing candor, Grennan in Little Princes tells the story of how a good-looking University of Virginia grad with wanderlust ended up risking his life to find, then reunite, children with their families in Nepal, one of the poorest countries in the world."
-USA Today

"The beauty of this book is partly the fact that it is a memoir. But it is also more than that. I defy you to not be inspired or moved by this saga."
-New York Journal of Books

"The author stumbles into volunteering in an orphanage in Nepal and gets involved in reuniting trafficked children with their families. The energy of these children will make you laugh even though they've been through hardship and loss."
-San Francisco Chronicle Book Review

"While the story is amazing, sincere and touching, it is also a pleasure to see how the author grows, both in personality and style over the five years that the memoir covers."
-Seattle Post-Intelligencer

"Grennan's work is by turns self-pokingly humorous, exciting, and inspiring."
-Publishers Weekly (starred review)

"'Little Princes' is a tale of determination, courage and love that will not leave you unchanged."
-Daytona Beach News

"Funny, touching, tragic. Conor Grennan's Little Princes is a remarkable tale of corruption, child trafficking and civil war in a far away land — and one man's extraordinary quest to reunite lost Nepalese children with their parents."
-Neil White, author of In the Sanctuary of Outcasts