If You Have to Cry, Go Outside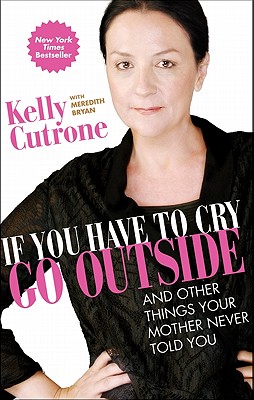 If You Have to Cry, Go Outside
And Other Things Your Mother Never Told You
HarperOne, Paperback, 9780061930942, 197pp.
Publication Date: January 1, 2011
* Individual store prices may vary.
Buy at Local Store
Enter your zip code below to purchase from an indie close to you.
or
Buy Here
Description
In the New York Times bestseller If You Have to Cry, Go Outside, media maven Kelly Cutrone spills her secrets for success without selling out. She combines personal and professional stories from her high-profile gigs as Whitney Port and Lauren Conrad's boss on The Hills, star of Bravo's Kell on Earth, judge on America's Next Top Model, and CEO/founder of the fashion PR firm People's Revolution to offer young professional women no-nonsense, brutally honest career advice--and other things their mothers never told them.
Praise For If You Have to Cry, Go Outside…
"Kelly's book is full of anecdotes from her personal and professional life as well as motivational tips."
-People.com

"Cutrone, 44, is infamous to the MTV generation for her untimely eruptions and cutting commentaries. Her hellish take on the fashion world is her ticket to stardom....If You Have to Cry, Go Outside (HarperOne), reads as a gritty guide for young women entering the fashion world."
-USA Today

"Choice career and style advice from New York's most outspoken PR woman."
-WSJ.com

"What everyone loves about Kelly Cutrone, owner of fashion PR firm People's Revolution and The City's official BS barometer, is that she isn't afraid to tell it how it is."
-Elle Magazine

"Cutrone gives blunt, how-to advice on how to be a "power bitch"... It's an old-fashioned guide to succeeding in both life and work (phone, not e-mail, you Gen Y-ers!), with a dash of self-styled spirituality and, of course, all dressed up in Balenciaga."
-New York Post

"[The] powerhouse fashion PR maven we-love-to-hate-but-really-love..."
-Dallas Morning News

"Part memoir, part self-improvement sermon (and conspicuously published by HarperOne, the spirituality imprint behind some of Marianne Williamson's and Deepak Chopra's books), it recounts Cutrone's own fitful journey."
-New York Magazine

"[A] memoir-ish book of offbeat advice for budding 'power girls'..."
-The Daily Beast

"In her new book, If You Have to Cry, Go Outside: And Other Things Your Mother Never Told You, Cutrone shares personal stories and offers practical advice to encourage readers to figure out what they really want to do and to go out there and do it."
-Aol Career Blog

"The book outlines [Cutrone's] tumultuous rise from homelessness to the fashion elite and serves as a guide for navigating an alternative career path."
-The Harvard Crimson

"Cutrone's new book If you have to Cry, Go Outside: And Other Things Your Mother Never Told You is a raw, no bullshit, drama and drug–filled autobiographical joy ride that preaches spiritual self-empowerment over self-sabotage.."
-Out Magazine

"One of the few movers-and shakers who seems to have an enlightened grip on both the dark and light side of the business she navigates with such self-possession.… Clear, concise, to the point, and abrasively, wonderfully honest."
-The L

"A must-read for career-minded gals entering the workforce – or those who just want to reinvent themselves."
-Star Magazine

"Intelligent and witty works of wonder...literary bitch-slaps of unfettered straightfoward speech....an honest, instructional pseudo-memoir targeting a new generation of "young girls and gay boys" who want to break into the fashion industry but are unsure they have the chops for it. "
-Bay Area Reporter

"In her trademark, no bull-shit style Kelly gives us the raw honest truth in If You Have To Cry, Go Outside. It is an easy fun read book you most likely will read over and over and continue to laugh out loud."
-CupcakeMag.com

"Though on her TV show Cutrone's outer bitch is ascendant, in her book, we're introduced to the softer side of Kelly. Prone to New Age platitudes like, "Celebrate the magic inside of yourself." This hippie affect is a delightful surprise coming from a woman who also swears like a sailor."
-Slate.com

"She's also publishing a memoir/guide, turning her take-no-prisoners approach to the fashion business into a message of girl power...entertaining for all."
-Los Angeles Times

"Some necessary tough-love truths."
-Columbus Ledger-Enquirer

"Part memoir and part career guide, geared toward young women breaking into the workforce."
-The Village Voice

"If anything, the word that should be used to describe Cutrone is 'feminist' - it's just that her version of female empowerment involves acknowledging that 'you're no different from anyone else and deserve no special treatment'. Unless, of course, you've earned it."
-The Sunday Times