Gossip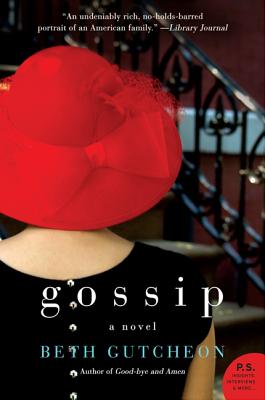 Gossip
William Morrow & Company, Paperback, 9780061931437, 278pp.
Publication Date: March 5, 2013
* Individual store prices may vary.
Not Currently Available for Direct Purchase
or
Shop Local
Enter your zip code below to purchase from an indie close to you.
Description
A gifted storyteller...her characters are intelligent, brave, and witty...human and real.
Susan Isaacs, New York Times Book Review
The critically acclaimed author of Good-bye and Amen, Leeway Cottage, and More Than You Know, Beth Gutcheon returns with Gossip, a sharply perceptive and emotionally resonant novel about the power of knowing things about others, the consequences of rumor, and the unexpected price of friendship. A story set among the rich, famous, and well-dressed of Manhattans Upper East Side, Gossip is a bravura display of this exceptional authors breathtaking talents, addressing important themes of motherhood, friendship, and fidelity. Every reader who admires the strong, character-driven womens fiction of Sue Miller, Alice Hoffman, Elizabeth Berg, and Kaye Gibbons should lend an ear to Beth Gutcheons Gossip.

About the Author
Beth Gutcheon is the critically acclaimed author of eight previous novels: The New Girls, Still Missing, Domestic Pleasures, Saying Grace, Five Fortunes, More Than You Know, Leeway Cottage, and Good-bye and Amen. She is the writer of several film scripts, including the Academy-Award nominee The Children of Theatre Street. She lives in New York City.
Praise For Gossip…
"[E]nthralling . . . triumphant and true."
-Boston Globe

"[C]ompellingly drawn…A true New England novel, charming but a bit chilly."
-Kirkus Reviews on GOOD-BYE AND AMEN

"[C]ompelling…Beautifully written and told from varying points of view, this sweeping saga will strike a chord with anyone who loves to read about family. Four stars."
-Romantic Times on GOOD-BYE AND AMEN

"A great drama, cinematically told . . . [Gutcheon] writes elegantly about the complex bonds of family."
-Pittsburgh Post-Gazette

"A remarkably rich and emotionally jarring novel filled ultimately with hope."
-Pages Magazine

"Editor's Choice."
-Denver Post on GOOD-BYE AND AMEN

"Good-Bye and Amen is a tour de force of structure and voice. Gutcheon had me at the first sentence and I didn't put the book down until I had finished it. Marvelous and memorable."
-Karen Joy Fowler, author of Wit's End and The Jane Austen Book Club

"The book reads seamlessly…Gutcheon is a novelist with a poetic grasp of the language and a keen eye for the quirks and foibles that make us human. "
-San Antonio Express-News on GOOD-BYE AND AMEN

"A good old–fashioned, all–encompassing read, with tears and smiles guaranteed."
-Library Journal

"Beth Gutcheon has something real to say . . . There is a world of entertainment in Domestic Pleasures."
-—The New York Times Book Review

"An endearing urban fairytale filled with surprises."
-San Francisco Chronicle

"The charms of Domestic Pleasures--its wit, its sharp dialogue, its perfectly tuned characters--tackle you early on and keep you pinned, turning pages, through the last, wonderfully satisfying scene."
-Michael Dorris

"She has absolutely perfect pitch when it comes to capturing the lives of these remarkable women. This seems to be the quintessential American woman's tale. I loved it."
-Anne Rivers Siddons

"Lively and engaging...Ms. Gutcheon knows her craft."
-New York Times Book Review

"The importance of connections between women is highlighted in this story of friendship and support among a group of five women."
-Booklist

"An unpretentious tale of freindship among the well-heeled that is both a page-turner and day-brightener."
-Kirkus Reviews

"The dialogue is convincing and well-paced. The suspense is strung out for maximum effect. The images are vivid and uncluttered This [is] a book that is tough to put down."
-USA Today

"The taut facility with which Gutcheon twines the two stories creates real suspense While Gutcheon cannily evokes the ephemerality of passion, she also evinces, with stark and elemental resonance, the way love and hatred shape lives."
-The New York Times Book Review

"A graceful and elegant novel that explores the unintended damage simmering hostility and sharing confidences can bring, Gossip builds to a stunning and devastating finish."
-Booklist on GOSSIP

"This compelling story is full of emotions—heartache, love, frustrations, and even a generous dose of humor. But it is the compelling sense of friendship and loyatly between the characters that is the star attraction of this book, and Gutcheon proves her mastery as a consummate storyteller with the spellbinding novel."
-Ventura County Star on GOSSIP

"GOSSIP is compelling story full of many emotions, heartache, love, frustrations, and even a generous dose of humor.…Gutcheon proves her mastery as a consummate storyteller with this spellbinding novel."
-Fresh Fiction on GOSSIP