How to Be a Grown Up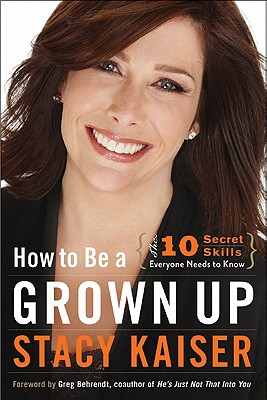 How to Be a Grown Up
The Ten Secret Skills Everyone Needs to Know
HarperOne, Paperback, 9780061941191, 261pp.
Publication Date: May 10, 2011
* Individual store prices may vary.
Buy at Local Store
Enter your zip code below to purchase from an indie close to you.
or
Buy Here
Description
How to Be a Grown Up should be required reading for anyone wishing to be (or trying to raise) an emotionally-fit, responsible adult in the modern world. In clear and simple language this book provides everything you need to know to have a successful life. Arielle Ford, author of The Soulmate Secret
In How to Be a Grown Up, Stacy Kaiser, the renowned psychotherapist from Celebrity Fit Club and The Lifetime Channel's DietTribe, reveals the ten critical areas that impact our success, happiness, and fulfillment. In the vein of the books of Dr. Laura, Cheryl Richardson, and Dr. Phil, How to Be a Grown Up is an effective blueprint for realizing your own best potential.
Praise For How to Be a Grown Up…
"Stacy Kaiser lets us in on the secrets of human behavior: change is always possible! How to Be a Grown Up is a smart, funny read. But more importantly, Stacy gives you the power to create the life you want."
-Peter Walsh, author of the New York Times bestseller It's All Too Much

"How to Be a Grown Up should be required reading for anyone wishing to be (or trying to raise) an emotionally-fit, responsible adult in the modern world. In clear and simple language this book provides everything you need to know to have a successful life."
-Arielle Ford, author of The Soulmate Secret

"Awesome therapist Stacy Kaiser really hits a home run with How to Be a Grown Up. I particularly like the chapter on appearance. I can give you the million dollar workout but if your head isn't in the game your body won't follow. Stacy, YOU ROCK!"
-Harvey Walden IV, Celebrity Fit Club host and fitness trainer

"Stacy has adapted a no-nonsense approach that cuts through the clatter of every grown up's life and reaches through the noise with clear tools. She shows us that it is possible to have a busy adult life full of responsibility and still find fun and freedom."
-Drew Pinsky, MD