To Hell on a Fast Horse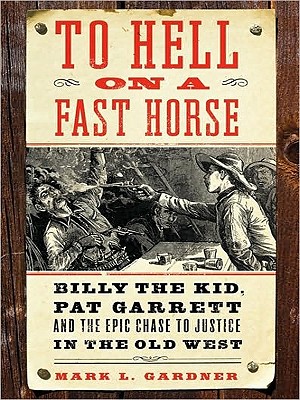 To Hell on a Fast Horse
Billy the Kid, Pat Garrett, and the Epic Chase to Justice in the Old West
HarperLuxe, Paperback, Large Print, 9780061945694, 506pp.
Publication Date: February 9, 2010
* Individual store prices may vary.
Buy at Local Store
Enter your zip code below to purchase from an indie close to you.
or
Buy Here
Description
So richly detailed, you can almost smell the gunsmoke and the sweat of the saddles. Hampton Sides, New York Times bestselling author of Ghost SoldiersNo outlaw typifies America's mythic Wild West more than Billy the Kid. To Hell on a Fast Horse by Mark Lee Gardner is the riveting true tale of Sheriff Pat Garrett's thrilling, break-neck chase in pursuit of the notorious bandit. David Dary calls To Hell on a Fast Horse, A masterpiece, and Robert M. Utley calls it, Superb narrative history. This is spellbinding historical adventure at its very best, recalling James Swanson's New York Times bestseller Manhunt about the search for Lincoln's assassin, John Wilkes Booth as it fills in with fascinating detail the story director Sam Peckinpah brought to the screen in his classic film Pat Garrett and Billy the Kid.
About the Author
Mark Lee Gardner is the author of To Hell on a Fast Horse, the story of Billy the Kid and Sheriff Pat Garrett. An authority on the American West, Gardner has appeared on PBS's American Experience, ABC's World News, the History Channel, Encore Westerns, NPR's All Things Considered, and BBC Radio. He has written for the Los Angeles Times, American Heritage, Wild West, American Cowboy, and New Mexico magazine. Gardner lives with his family in Cascade, Colorado.
Praise For To Hell on a Fast Horse…
"The double-helix relationship between Billy the Kid and Pat Garrett is one of the abiding fascinations of the West. No one has come closer than Mark Lee Gardner to capturing their twin destinies and their inevitable final collision....you can almost smell the gunsmoke and the sweat of the saddles. "
-Hampton Sides, author of the New York Times bestsellers Blood and Thunder and Ghost Soldiers

"A masterpiece! Mark Gardner's dual biography of Billy the Kid and Pat Garrett cuts through the myth to tell the real story of two real figures in the Wild West. Gardner's scholarship is superb. This work can only be called a classic."
-David Dary

"Incredibly deep research combines with the talents of a fine historian and writer to produce superb narrative history. The true character and relationship of these two iconic westerners emerge to suppress myth and correct more than a century of tomes laden with bad history."
-Robert M. Utley

"Digging beneath the myths and melodrama, [Gardner] begins in Las Vegas during Christmas week, 1880, when the capture and confinement of Billy the Kid made national headlines... Gardner's extensive research and authoritative approach ground this compelling historical recreation."
-Publishers Weekly

"As gripping as any thriller."
-Library Journal